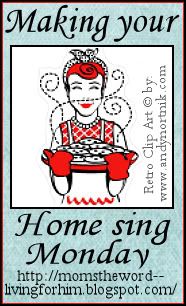 Welcome to the Making Your Home Sing Monday linky party! Every day you are doing something to make your house into a home for yourself and your family (if you have one).
My point with each Monday post is, what are YOU doing or going to do today to make your home sing? It can be an attitude or an action. So have fun, do some blog hopping, and link up!
Thanks!
Topics can include marriage, parenting, encouraging women, organization, cleaning, saving money, our behavior and attitudes, homemaking, homeschooling, recipes....the opportunities are endless.
Note: We
had
85
linkups last week! You guys are awesome! Don't forget to visit one another and try to leave a comment
on at least one blog to encourage someone today! :)
On the left sidebar (down towards the bottom) is the "Making Your Home Sing! Monday" button which you are welcome to grab and paste into your post if you want but it's not a requirement. It is a "no-follow" button.
I love the Christmas season! But one of the things I
don't
love about it is how crazy the stores are. Even going to a grocery store can be a life changing event as you try and not strangle the
12th person
that just bumped into you without even an "excuse me!" or park what seems like a million miles away because the parking lot is full.
Yesterday I had to go to the store. I knew we were in trouble the minute we pulled into the parking lot and cars were frantically trying to force their way into the lanes in order to get a parking spot FIRST!
One car was trying to back out and another car wanted their spot, but THAT car was not following the arrows and was driving in the wrong direction. The car
behind
the car backing out wanted the spot too. So the car backed out but then couldn't leave because neither the car in
front
of him nor the car
behind
him were going to give an inch.
Horns were blaring as all three vehicles just sat there, unmoving, while traffic piled up behind and added
THEIR
horns to the growing orchestra.
Really? Seriously?
All that tension, added stress and high blood pressure for a
parking spot?
Now don't get me wrong, I have had less than stellar moments over a parking spot that I felt was
mine
, and found myself getting irritated. But when it all comes down to it, it is a parking spot.
We may not be able to change how rude other people are but we can change how rude we are. We may not be able to change how others respond but we can change how WE respond.
We may not be able to stop the problem but we can stop
contributing
to the problem.
So
this
week? This week I am going to shop intentionally, with
grace
. That means I am going to try and give grace to others when they shove me out of the way in order to be the first to get through the door, or run into me with their cart yet AGAIN, or try and shove their way ahead of me in line.
I am also going to try and
NOT
be the one who is shoving other people or knocking my cart into theirs because I am not being careful or honking my horn because I am impatient.
I am going to try and smile and be polite when others are rude and demanding.......even when it kills me.
And I am not going to shorten
MY
life by a few seconds or a few years by getting all steamed up over a parking spot.
With the Lord's help I am going to make my home sing this week by intentionally looking for opportunities to be gracious and unselfish.....because I can be very selfish and ungracious sometimes. But this season is not about me. It's about
Him
.
And when it comes right down to it......it's just a parking spot.
What are

you

doing or going to do today to make your home sing?
Please go
here
for instructions and/or ideas and come back here to link up to join us today! Please do not put your own "Making Your Home Sing Monday" Linky on your blog.
If you don't want to miss any blogs posts, you can subscribe
by
RSS,
Bloglovin,
Feedly
Facebook or Email
I'd love to connect with you!