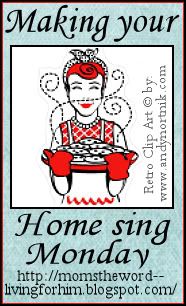 Welcome to the Making Your Home Sing Monday linky party! Every day you are doing something to make your house into a home for yourself and your family (if you have one).
My point with each Monday post is, what are YOU doing or going to do today to make your home sing? It can be an attitude or an action. So have fun, do some blog hopping, and link up!
Thanks!
Topics can include marriage, parenting, encouraging women, organization, cleaning, saving money, our behavior and attitudes, homemaking, homeschooling, recipes....the opportunities are endless.
Note: We
had
106
linkups last week! You guys are awesome! Don't forget to visit one another and try to leave a comment
on at least one blog to encourage someone today! :)
On the left sidebar (down towards the bottom) is the "Making Your Home Sing! Monday" button which you are welcome to grab and paste into your post if you want but it's not a requirement. It is a "no-follow" button.
Wow, this year is going fast! I hope you all had a lovely Thanksgiving!
Right now it looks like Christmas threw up all over my house. All we did was pretty much drag the Christmas boxes out but no real decorating has been done yet.
I've been watching Christmas movies 24/7 on the Hallmark channel. O.k., maybe not watching 24/7 but I love the Christmas movie season!
My husband has already informed me that we need to watch "White Christmas," which is also our daughter-in-law's favorite Christmas movie. Our eldest son wants to watch "Miracle on 34th Street" which is HIS favorite and I'm pretty sure that our youngest son will want to watch "Jingle All The Way."
MY favorite Christmas movie is "It's A Wonderful Life."
Isn't it funny how some movies become a tradition? I remember watching "The Wizard of Oz" every year as a child with my family. Not at Christmas time, of course, lol!
You can make a tradition around a movie, a book, a song, a place, a food........the tradition opportunities are endless.
Christmas traditions bring back warm memories of Christmases gone by, of family members who are no longer with us, of precious moments when our children were younger, and even of our own childhood.
Making a birthday cake for Jesus, new pajamas on Christmas morning, baking and decorating sugar cookies, Christmas caroling, making a snowman...........these are traditions that you might choose to observe every year.
Some of our family traditions are things that we did a couple of times and then one of our children declared it a must have, and thus a TRADITION was born! Some traditions eventually end, of course.
For example, our children used to sleep in front of the Christmas tree the first night it went up and the last night before it was taken down. This tradition carried on for years until they got to be teenagers and sleeping on the couch was fine for one but the loveseat was too small for the other, which left the hardwood floor......they tried it but didn't like it much.
But the awesome thing about tradition is that you can always make a new one if you want, or you can choose to keep an old one. You can even modify a tradition!
This year I'm choosing to keep our tradition of watching favorite Christmas movies, and driving around looking at neighborhood Christmas lights.
What traditions are you choosing to keep this year? What is YOUR favorite Christmas movie? Renew an old tradition, discover a new tradition and make your home sing!
What are

you

doing or going to do today to make your home sing?
Please go
here
for instructions and/or ideas and come back here to link up to join us today! Please do not put your own "Making Your Home Sing Monday" Linky on your blog.
If you don't want to miss any blogs posts, you can subscribe
by
RSS,
Bloglovin,
Feedly
Facebook or Email
I'd love to connect with you!