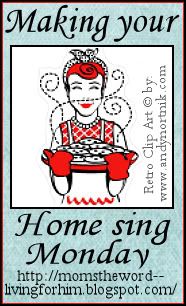 Welcome to the Making Your Home Sing Monday linky party! Every day you are doing something to make your house into a home for yourself and your family (if you have one).
My point with each Monday post is, what are YOU doing or going to do today to make your home sing? It can be an attitude or an action. So have fun, do some blog hopping, and link up!
Thanks!
Topics can include marriage, parenting, encouraging women, organization, cleaning, saving money, our behavior and attitudes, homemaking, homeschooling, recipes....the opportunities are endless.
Note: We
had
78
linkups last week! You guys are awesome! Don't forget to visit one another and try to leave a comment
on at least one blog to encourage someone today! :)
On the left sidebar (down towards the bottom) is the "Making Your Home Sing! Monday" button which you are welcome to grab and paste if you want but it's not a requirement. It is a "no-follow" button.
It was a huge fight. I don't even remember what it was about anymore, it was too long ago. We were newlyweds.
But what I DO remember is that, in the middle of it, I said something hurtful to my husband. I remember
knowing
that it hurt him, and I didn't care.
I had wrapped my anger around me like a blanket and I was determined to win this argument at all costs. Even if I had to hurt my husband to do it. Winning was what was important, not my husband and not my marriage.
Sometimes we tend to think of an argument or a fight as something that must be
won
. We forget about the issues we were discussing, the goals we might want to reach together, and start focusing on you did this, and you
never
do that, and you always.....
Pretty soon we are no longer discussing the issue at hand. We are no longer communicating. We are fighting. And
that
night? I was determined to win.
How can we look at the one we love, the one whose heart is knit with ours, and not care that they're hurting?
How can we say words that hurt, words that crush, and words that cannot ever be taken back, and not care?
There is
fighting
and there is
communicating
.......
Fighting is expressing your anger, communicating is expressing your thoughts and feelings.
Fighting is seeking to win, communicating is seeking to understand.
Fighting escalates, communicating facilitates.
Fighting hurts, communicating heals.
That night I had hardened my heart against my husband and I was hardening my heart against God. That night was ALSO the night that God showed me my heart, and I didn't like what I saw.
That night I realized that winning wasn't important. My husband was. That night I remembered that marriage isn't "me." It's "we."
That night I asked for God's forgiveness and my husband's forgiveness for my selfishness and hurtful words. I would have lost far more than I
ever
could have gained that night, had the Lord not turned me around. What a gracious, loving God we have and what a precious, patient husband I have!
Some people like to say that fighting is healthy in a marriage. I like to think that
communication
is healthy in a marriage. Fighting is nothing until you get to the communication part. Otherwise it's just conflict with no resolution.
When you look up the word
communication
, it uses the word "to share" to describe it. Sharing information about feelings, thoughts, needs and desires, etc.
When you look up the word
fight
in the dictionary, it uses the word "angry" to describe it. Angry arguing, angry conflict, etc.
But I also noticed that the dictionary describes fighting as
gaining something
by a struggle, or struggling to
endure
or
overcome
.
When we make communication important and stick to the issue at hand, when we fight to communicate and fight for our marriage, we are fighting a good fight. We are fighting a
fair
fight. We are fighting so that we both win.....
together
.
Now that's a thing worth fighting for!
What are

you

doing or going to do today to make your home sing?
Please go
here
for instructions and/or ideas and come back here to link up to join us today! Please do not put your own "Making Your Home Sing Monday" Linky on your blog.
If you don't want to miss any blogs posts, you can subscribe
by
RSS,
Bloglovin,
Feedly
Facebook or Email
I'd love to connect with you!
I am linking up to these linky
parties: