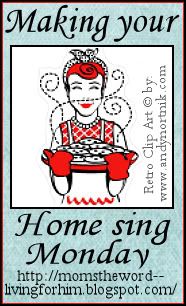 Welcome to the Making Your Home Sing Monday linky party! Every day you are doing something to make your house into a home for yourself and your family (if you have one).
My point with each Monday post is, what are YOU doing or going to do today to make your home sing? It can be an attitude or an action. So have fun, do some blog hopping, and link up!
Thanks!
Topics can include marriage, parenting, encouraging women, organization, cleaning, saving money, our behavior and attitudes, homemaking, homeschooling, recipes....the opportunities are endless.
Note: We
had
96
linkups last week! You guys are awesome! Don't forget to visit one another and try to leave a comment
on at least one blog to encourage someone today! :)
Have you ever thought about the fact that we will make to-do lists, we will plan parties and vacations and activities, and yet we won't plan the most important thing of all?
We won't plan how we are going to raise our children.
We fail to plan because, after all, how can you PLAN raising your children? Isn't that impossible? Things happen, priorities change, people change, life gets in the way so how can you even
think
of making any kind of workable plan?
Let me tell you something that you already know:
Children's minds and hearts are too important to leave to chance.
You can parent intentionally, or you can sit back and hope that they will "catch" the right values. Are YOU parenting intentionally?
If you don't teach your child what is right, someone will teach them what is wrong.
If we don't teach them our values, someone else will teach them theirs.
If we don't teach them our beliefs, someone else will teach them their beliefs.
If we don't teach them what we know to be the truth, someone else will teach them a lie.
We cannot burden our children with something that is too big for them. But, even at a young age, there are things we want them to
learn
,
there are
character traits
we'd like to see them develop, and
values
we want to instill.
Many years ago I listed some things that I wanted to do for or with our oldest son (he was around age five at the time). I wrote:
Show Scriptural basis for things when we correct him or teach him things we want him to learn.
Devotions with him.
Praise and thanking the Lord for things so he learns how to praise and be thankful.
Focus on the good things he does and good things God does.
Play with him - time just for him each day.
For Me: watch my words and what I say and how I say it (i.e. tone of voice).
For his younger brother who was just a young toddler this is some of what I listed for him:
Read books to him
Play with him
Sing songs to him
Playtime with his brother (to foster and encourage their relationship)
It doesn't mean that I wasn't already playing with them, etc. But by writing it down it meant that I was committing to being
intentional
about it.
We would also, from time to time, note character traits that we wanted to see them develop or values that we wanted to instill in them. They might have weaknesses that we wanted to encourage them to try and turn into strengths.
We cannot easily encourage our child in their weaknesses if we don't know their strengths.
When we know their strengths, we know their passion and we can use that to build them up in their weak areas.
For example:
If your child really has a heart for service and loves to do things for others
, but struggles with wanting things done
their
way, have them bake cookies with a friend or sibling to take to another friend or neighbor, but let their baking partner choose the cookies they will bake. Encourage them to work together on decorating the cookies and on brainstorming what to put on the card.
If your child is very creative and loves writing or crafts
but is having a hard time being patient with his/her younger siblings, have her write and direct a play with parts for her siblings or have her create a craft for them all to do. She will probably need your guidance a bit but it will direct her passion and move her in a positive direction for working on that weakness.
Look at your children's strengths and see how you can use those strengths to work on their weaknesses.
How can you encourage them to stretch a little? How can you challenge them and build them up?
Sit down and prayerfully make some
goals
for your child. Don't panic. It doesn't have to be for the rest of their life. It only needs to be for "right now."
Write down what you would like them to believe about themselves.
How you want them to view God, themselves, their family?
Prayerfully set some goals today and make your home sing!
What are

you

doing or going to do today to make your home sing?
Please go
here
for instructions and/or ideas and come back here to link up to join us today! Please do not put your own "Making Your Home Sing Monday" Linky on your blog.
If you don't want to miss any blogs posts, you can subscribe
by
RSS,
Bloglovin,
Feedly
Facebook or Email
I'd love to connect with you!
I am linking up to these
linky
parties: