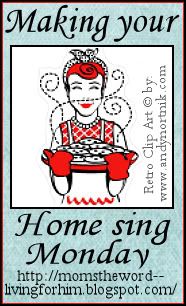 Welcome to the Making Your Home Sing Monday linky party! Every day you are doing something to make your house into a home for yourself and your family (if you have one).
My point with each Monday post is, what are YOU doing or going to do today to make your home sing? It can be an attitude or an action. So have fun, do some blog hopping, and link up!
Th

anks!
Topics can include marriage, parenting, encouraging women, organization, cleaning, saving money, our behavior and attitudes, homemaking, homeschooling, recipes....the opportunities are endless.
Note: We
had
91
linkups last week! You guys are awesome! Don't forget to visit one another and try to leave a comment
on at least one blog to encourage someone today! :)
You have things. I have things. We all have things. Lots and lots of
things.
Stuff.
Sometimes we are wise stewards of our money but not so wise when it comes to our possessions!
Sometimes we don't take good care of the things that we
have
, and yet we have a desire to acquire
more
things.
I think sometimes we need to
evaluate the worth
of our stuff. We have to evaluate whether it's worth the trouble to
store
it, either in a storage unit or in our homes.
Image courtesy of Bill Longshaw at FreeDigitalPhotos.net
If we're storing it in a storage unit, is the value of the stuff we're storing worth the money we're paying to store it? Are we paying over $100 a month to store a bunch of old clothes, old magazines, old yearbooks and broken lawn chairs?
If it's something we really like -
then why aren't we putting it out where we can see it and appreciate it?
Why are we storing it away?
We should put it out where we can
enjoy
it.
If it's broken, we should also ask ourselves whether it is worth it to repair an item and put money into it to fix it, or give up prime "real estate" space
to
store
it even though it's broken and we can't use it.
If it's not worth it - why are we keeping it?
If it's not worth it, why are we spending all that time dusting it, cleaning it, maintaining it and caring for it?
If it IS worth it, are we enjoying it? Are we taking good care of it?
Why do I consider talking about a home cluttered with STUFF a
frugal
post?
Because sometimes we buy more of the
same
things because we
can't find
the ones that we have.
Because sometimes we buy another item because the one that we have is broken - yet
we don't throw
the broken one away.
Because sometimes we buy a bigger house that we really don't need and can't afford, so we can have more room to buy more stuff.
Because sometimes we are unhappy in the home that we have because we feel so crowded, yet what is crowding us isn't our family - it's our STUFF.
Because sometimes what we have is good enough, yet we want to buy the latest, best, brightest, newest.
Not because we
need
it but because we
want
it.
Not because we can afford it but because we feel like we can't afford
NOT
to buy it, because it's there.
Because we can.
Sometimes we aren't good stewards of our money because the desire to own is greater than the desire to save.
But sometimes we ROCK that stewardship thing when we carefully and prayerfully weigh our options before buying something, especially if it's a major purchase. Let's remember that we own our
stuff
, our stuff doesn't own us and make our homes sing this week!
What are

you

doing or going to do today to make your home sing?
Please go
here
for instructions and/or ideas and come back here to link up to join us today! Please do not put your own "Making Your Home Sing Monday" Linky on your blog.
If you don't want to miss any blogs posts, you can subscribe
by
RSS,
Bloglovin,
Feedly
Facebook or Email
I'd love to connect with you!
I am linking up to
these linky
parties: