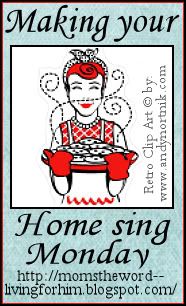 Welcome to the Making Your Home Sing Monday linky party! Every day you are doing something to make your house into a home for yourself and your family (if you have one).
My point with each Monday post is, what are YOU doing or going to do today to make your home sing? It can be an attitude or an action. So have fun, do some blog hopping, and link up!
Thanks!
Topics can include marriage, parenting, encouraging women, organization, cleaning, saving money, our behavior and attitudes, homemaking, homeschooling, recipes....the opportunities are endless.
Note: We
had
80
linkups last week! You guys are awesome! Don't forget to visit one another and try to leave a comment
on at least one blog to encourage someone today! :)
Do you hate house cleaning? Do you dread having to do it? Do you put it off as long as you can? Are you miserable whenever you
have
to do it?
Well, in case you're not miserable enough, here are TEN for sure ways to make your cleaning duties
more
difficult so that you will wish you never had to do it again. Adopt any or all of these tips if you want to add
more stress
to your homemaking duties! Because more stress is normal and to be desired, right?
1. Don't wash the dirty dishes right away.
Wait until the mashed potatoes or oatmeal have hardened to the intensity of concrete. That way, it will take longer and you can enjoy it more. Why go do something fun when you can spend an extra ten minutes or more scrubbing hardened food off your pots and pans?
2. Don't establish any routine cleaning habits.
They are a waste of time because you have to keep doing them over and over. They don't STAY done and so it's a waste of time, right?
Don't clean up the kitchen after every meal, you're only going to have to clean it again tomorrow anyway. Don't make your bed every day, you're going to mess it up again tonight anyway, and you're only going to have to make it again tomorrow.
Don't hang up your clothes every day, you will just have to do it all over again tomorrow anyway. Don't dust, vacuum or mop every week. It's just a waste of time because you will only have to do it again when the dust builds up or the floor gets sticky.
Don't waste your time on things that won't STAY clean.
3. Don't ever pick up after yourself.
Ever.
Just leave everything out in the last place you used it. That way you can find it again. If you're lucky you will only have to remove a few things on top before you discover what you're looking for.
4. Don't have a place for anything.
Just leave it all out so that you can SEE what you have. That way you can have hours of fun sorting through your piles of stuff while you're looking for that one thing and you never have to return it to its place when you're done with it.....because there
IS
no place!
5. Get mad whenever you have to clean.
Feel sorry for yourself, call yourself a hopeless drudge and act like a martyr. Say you don't deserve to be treated like this.
Have a miserable time and get mad when you have to clean, throw things across the room, slam doors, yell at your family and call them "slobs" and say "You guys are
pigs!
" Make sure everyone else has a miserable time, too, and knows how unhappy you are.
6. Clean only when you absolutely HAVE to.
Don't clean up a spill when you see it or pick up some garbage when you come across it. Don't dust, vacuum, wipe up the kitchen counters, or put away the newspapers. Let it all pile up and ignore it for as long as you can get away with it.
After all, it's just as easy to put away 20 newspapers as it is to put away one newspaper, right? It's just as easy to put away ten loads of laundry as it is one load of laundry, right?
And when you finally
DO
clean? Clean only the little things that really don't matter as much such as dusting the fake plant leaves or cleaning the smudges off the light switches and ignore the "bigger" cleaning jobs such as mopping floors, dishes, bathrooms, etc. That way you can feel virtuous that you cleaned something without having to work too hard at it!
7. Don't clean during the week or even once a week.
Wait until your husband and children are yelling at you that there are no clean dishes or laundry, and you notice that the house is such a mess you're wondering if you should hang a "danger" sign outside the door.
This way you can really work hard and put in some long hours working all weekend (and even longer maybe) and feel like you've really accomplished something that day. And when you go to bed exhausted, knowing you're not done and have more to do the next day, you will really feel like you deserve that vacation coming up!
8. Make lots of excuses.
After all, no one else has to stay home all day with a baby and small children who drag things out as fast as you can put them away. No one else has to work outside the home and then come home and cook dinner when they're tired and then face a load of dishes afterward. No one else has as big a house as
you
do, or as small a house as you do, or three bathrooms or only ONE bathroom.
No one else has as many children as
you
have to pick up after, or no one else has
NO
children to help them clean.......no one else has the problems that YOU do. No one else understands.
9. Blame everyone else.
After all, its their mess too. Why did you ever think you wanted kids or a husband anyway? All he does is work all day and comes home and leaves
his socks lying around.
So unfair. And the kids? They are NO help at all. You nag them over and over to go pick up their stuff but they never do. So it's
their fault
your house is a mess. You can ignore this mess just as well as they can! If they want to act like they don't care YOU don't have to care either!
10. Every time you feel the urge to clean go do something else until it passes.
Turn on the t.v., read a good book, play on the computer. Just do anything to distract yourself from cleaning and I promise you the urge will eventually pass.
So put these tips to good use and you will soon find yourself well on your way to feeling

miserable

whenever you have to clean your home! ;) Be sure and pass them along to all your friends so that they can feel miserable too! Misery loves company, right?
What are

you

doing or going to do today to make your home sing?
Please go
here
for instructions and/or ideas and come back here to link up to join us today! Please do not put your own "Making Your Home Sing Monday" Linky on your blog.
If you don't want to miss any blogs posts, you can subscribe
by
RSS,
Bloglovin,
Feedly
Facebook or Email
I'd love to connect with you!
I am linking up
to these linky
parties: