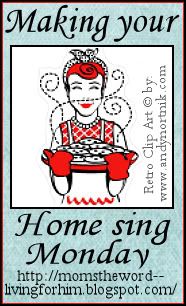 Welcome to the Making Your Home Sing Monday linky party! Every day you are doing something to make your house into a home for yourself and your family (if you have one).
My point with each Monday post is, what are YOU doing or going to do today to make your home sing? It can be an attitude or an action. So have fun, do some blog hopping, and link up!
Thanks!
Topics can include marriage, parenting, encouraging women, organization, cleaning, saving money, our behavior and attitudes, homemaking, homeschooling, recipes....the opportunities are endless.
Note: We
had
92
linkups last week! You guys are awesome! Don't forget to visit one another and try to leave a comment
on at least one blog to encourage someone today! :)
Sometimes it feels like motherhood is a lonely, solitary job. Seems like there's no one around to notice or tell you when you're doing something right, and
everyone's
around to notice when you do something
"wrong."
At least that's how it feels sometimes.
Your baby fusses and you can't quiet her. It's your fault, right?
Your toddler throws a temper tantrum in the grocery store. It's your fault, right?
Your preschooler doesn't know all her letters of the alphabet and everyone else's preschooler does. It's your fault, right?
Your teenager got into trouble at school. It's your fault, right?
Why are we so ready and willing to blame ourselves for everything? Why do we hold such impossibly high standards for ourselves?
Why does it seem like motherhood and guilt go hand in hand?
From the day that baby is born, your heart begins to knit with theirs. The minute the nurse places that tiny baby in your arms you feel the weight of that responsibility for that tiny little life.
I remember my first night home with our oldest son. I sat on the bed and stared at his precious, tiny little face. In a moment of panic I looked at my mom and my sister-in-law and I said "What do I
DO
with it?" Then I began to cry. (Yes, I said "it," lol!)
I was already afraid that I would "mess it up." I was afraid that I would not develop that
momtuition
that moms seemed to have. I was afraid that I wouldn't know how to parent. I was afraid that I would fail at this parenting thing.
I
DID
fail at this parenting thing. But I also
succeeded
. There were moments where I felt discouraged and where I lost my temper or had a less than stellar day. There were moments when I was afraid that my children would remember my ugly "mean mom" face or less than loving words for the rest of their lives.
But there were moments when I made the "owie" all better, when I had patience in abundance, when I turned a frown into a smile, and turned tears into laughter. There were many precious moments of joy and laughter and love.
When we accept that we're going to fail at this parenting thing, we
succeed
at this parenting thing.
When we accept that we're going to make mistakes, when we accept that we are not going to be perfect, when we forgive ourselves for the times we feel like we've failed, we free ourselves from the fear and guilt that paralyzes us and we move forward.
We are free to believe that with God's help, we will learn and change and grow as a parent, and we have hope that with God's grace, we will get better at it and become the mom we truly desire to be. Not the
perfect
mom, but the
grace-led
mom. Not the faultless mom, but the forgiven mom.
When we accept that we're
not
perfect, we can accept that we can't do this on our own. We need one another to get through this. We need community. And we need God to get us through this.
We succeed at parenting when we realize that parenting is NOT simply what we do, it's who we ARE.
And who we are is a parent who is not perfect, makes mistakes, but picks themselves up again and continues to seek to do their best and loves their child with a passion and fierceness that makes us weep sometimes.
We're wiping noses, helping with homework, driving carloads of kids around, and occasionally staring blankly at our children when they ask "What's for dinner?" We're getting up in the middle of the night to change a wet diaper, comfort a scared toddler or pacing the floor for a teenager who is fifteen minutes past curfew.
We are loving and living and learning and sometimes feel like we're sort of making it up as we go along. And that's o.k. Because everyone knows that these kids did
NOT
come with a rule book.......
What are

you

doing or going to do today to make your home sing?
Please go
here
for instructions and/or ideas and come back here to link up to join us today! Please do not put your own "Making Your Home Sing Monday" Linky on your blog.
If you don't want to miss any blogs posts, you can subscribe
by
RSS,
Bloglovin,
Feedly
Facebook or Email
I'd love to connect with you!
I am linking up to these linky
parties: