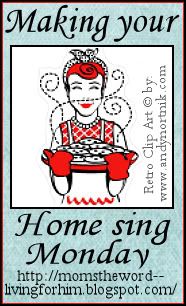 Welcome to the Making Your Home Sing Monday linky party! Every day you are doing something to make your house into a home for yourself and your family (if you have one).
My point with each Monday post is, what are YOU doing or going to do today to make your home sing? It can be an attitude or an action. So have fun, do some blog hopping, and link up!
Thanks!
Topics can include marriage, parenting, encouraging women, organization, cleaning, saving money, our behavior and attitudes, homemaking, homeschooling, recipes....the opportunities are endless.
Note: We
had

74
linkups last week, and on a
HOLIDAY
weekend! You guys are awesome! Don't forget to visit one another and try to leave a comment
on at least one blog to encourage someone today! :)
The other night I found myself washing dishes at 12:30 at night. While many in the world were sleeping,
I
was washing dishes. Although I usually do them after dinner, this time I had not bothered and so now I had to do them if I wanted to wake up to a clean kitchen in the morning. Which I
did
.
When my kids were younger I used the late evening hours to get stuff done. It wasn't unusual for me to do laundry, do the dishes, organize a cupboard or mop the floors at 11 p.m. or even midnight.
I would fold laundry and also flip flop the laundry from the washer to the dryer right in the middle of a movie with my husband. In fact, I would not
agree
to watch a movie unless my hubby promised me that we would stop the movie in the middle so that I could run and transfer the laundry or grab it when the dryer was done.
My day was never done
. My "chores" were never done. I would walk by my husband with my endless loads of laundry or dusting or in the kitchen cleaning something and he would say "I wish you would stop doing stuff around the house and
relax
."
I would think to myself, "
Relax?
That's easy for YOU to say. I can't relax! I have dishes to do and laundry to fold and things to dust......."
It wasn't like I was avoiding doing the work during the day. It's just that I loved to organize and I loved having things neat and orderly, so I would
FIND
stuff to do on top of things that already needed doing. Or I would start doing something late at night that could easily have waited until the next morning.
I eventually realized that my late night chores were keeping me up at night. I was having trouble sleeping because my body was all revved up with energy and my mind was going. I just couldn't unwind enough to go to sleep once I got in bed.
Not only that, but I didn't WANT to go to bed right away. I wanted to have a little "fun" and "relax" before bed. I find this very funny that I wanted to "relax" before sleeping. Isn't sleeping relaxing? ;) Consequently I found myself staying up much later because I was now "relaxing" after all the work I'd been doing.
So I began to set a
chore cut off time
for myself. At first, my cut off time was 11 p.m., but that didn't work so well, as I
still
found myself staying up later than I wanted to.
Then, I tried 10 p.m. but again, that did not work well either. It was still too late. I then went to 9 p.m. and eventually, even earlier.
What will setting a chore cut off time do for YOU?
1. More time with your husband and family.
Evening time is "prime" family time. Enjoy your family, play a game, read a story, have a snuggle or just enjoy being with them.
2. You will feel more rested and in a better mood.
Just having some downtime before bed can be enough to perk up your attitude as well as start you on the road to some sweet dreams! It's hard to unwind and fall asleep when you've been running around in a whirlwind of cleaning.
3. You won't feel like a household drudge.
Never having an end to your household chores can make you feel overworked, overwhelmed and underappreciated.
4. More time for fun!
Chores will take all day if we let them, leaving
less
time for fun and more time for work. Know when to say goodnight to all but the occasional or necessary chores and put them to bed before it's time for
YOU
to go to bed.
What about YOU? Do you find yourself doing chores into the late night hours? Are you staying up much later than you feel you should because of it? Are you missing time with your hubby or children due to your endless chores? Are you feeling discouraged and defeated and just plain tired as you fold yet another load of laundry?
Find a chore cut off time that works for YOU and relax, enjoy the rest of your evening and make your home sing!
What are

you

doing or going to do today to make your home sing?
Please go
here
for instructions and/or ideas and come back here to link up to join us today! Please do not put your own "Making Your Home Sing Monday" Linky on your blog.
If you don't want to miss any blogs posts, you can subscribe
by
RSS,
Bloglovin,
Feedly
Facebook or Email
I'd love to connect with you!
I am
linking up to these linky
parties: