Do you sometimes walk in to clean a room and suddenly feel overwhelmed? Not sure of where to start? Does it make you want to turn around and walk right back out again?
Do you ever find yourself desperately needing to clean a specific room and you keep getting sidetracked and find yourself wandering from room to room? Don't let it bother you. Come clean your rooms the Lazy Mom way!
LAZY MOM TIP:
Cleaning A Room
Lazy Mom's motto:
Make it easy, make it fun and get it done!
(
"
Lazy
" and "
Mom
" are not
usually
two words you'd put together in a sentence, are they? But sometimes we moms get tired and we DO feel like being lazy. We've had a long day of doing stuff but there is
more
to be done! That's when I suggest we do things the
Lazy Mom
way!)
Click
here
for more
Lazy Mom
tips.
If you don't want to miss any blogs posts, you can subscribe
by
RSS,
Bloglovin,
Feedly
Facebook or Email
I'd love to connect with you!
Be sure and come back
Monday
and link up to the
Making Your Home Sing Monday
linky party!
I am linking up to these linky parties: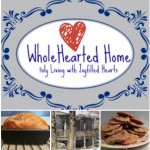 \

\