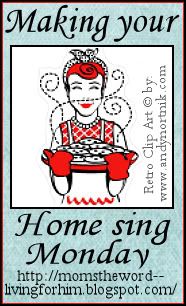 Welcome to the Making Your Home Sing Monday linky party! Every day you are doing something to make your house into a home for yourself and your family (if you have one).
My point with each Monday post is, what are YOU doing or going to do today to make your home sing? It can be an attitude or an action. So have fun, do some blog hopping, and link up!
Thanks!
Topics can include marriage, parenting, encouraging women, organization, cleaning, saving money, our behavior and attitudes, homemaking, homeschooling, recipes....the opportunities are endless.
Note: We
had
78
linkups last week! You guys are awesome! Don't forget to visit one another and try to leave a comment
on at least one blog to encourage someone today! :)
This last week has been our
wedding
week as our oldest son is getting married this weekend to his lovely fiance. It's been a busy week with a couple of unexpected health bumps along the way, with some of us getting sick and one of us needing an emergency
7 a.m.
visit to the dentist (go ME!). Ain't nobody got time for that.
Our son's last night in our family home (as a single man) we went into his room, gathered in a circle and we all prayed for him. As we gathered, it reminded me of all the years we would gather together at bedtime to have story time and pray for one another.
This changed as the children grew older and began jobs or had events that would take them away from home in the evenings. We never stopped praying for one another, we just weren't able to gather together as a family to pray at bedtime anymore.
Life changes as your children grow, it gets harder and harder to find family time together. Having meals together can be difficult too. Our kids were usually attending college during the day and working in the evenings. In fact, many is the time that we have gone to bed before our kids!
But the one thing that never changes is the love you have for one another, and the fact that you are a family. Time and distance doesn't change that. Even death doesn't change that. For example, my dad is still my dad, he is just living in a heavenly zip code now!
As my son goes out to make his way into the world and start his own family and traditions, I am confident that he will be happy and successful because I have entrusted him into God's care since he was born, and I trust him into God's care even now!
I have faithfully been praying for my children's future spouses ever since my children were born. Over the years I prayed for their wives in their girlhood and young adulthood. As I prayed certain prayers for my children, I would pray those prayers for their future spouse as well. For safety and protection, wisdom to make right choices and choose the right kind of friends, strength to say no to temptation, for their spiritual growth, for their health,etc. And I prayed for their families as well.
And now I have a face to put the prayers to for one of my son's wife. I am still praying for the other son's future wife, he hasn't met her yet. Or if he has, he doesn't know it yet, lol! Have a lovely weekend, my friends!
What are

you

doing or going to do today to make your home sing?
Please go
here
for instructions and/or ideas and come back here to link up to join us today! Please do not put your own "Making Your Home Sing Monday" Linky on your blog.
If you don't want to miss any blogs posts, you can subscribe
by
RSS,
Bloglovin,
Feedly
Facebook or Email
I'd love to connect with you!