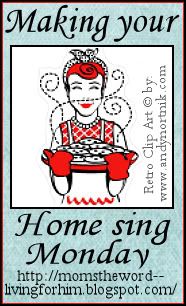 Welcome to the Making Your Home Sing Monday linky party! Every day you are doing something to make your house into a home for yourself and your family (if you have one).




My point with each Monday post is, what are YOU doing or going to do today to make your home sing? It can be an attitude or an action. So have fun, do some blog hopping, and link up!

Thanks!




Topics can include marriage, parenting, encouraging women, organization, cleaning, saving money, our behavior and attitudes, homemaking, homeschooling, recipes....the opportunities are endless.

Note: We had

107

linkups last week which is awesome! Don't forget to

visit

one another and try to leave a comment

on at least one blog to encourage someone today! :)
Image courtesy of Grant Cochrane at FreeDigitalPhotos.net
I have perfectionist tendencies, love to be "in control" and I love to organize. What that means is that whenever I have someone coming over, you might find me obsessing over something small that
no one will ever see
, and ignoring the
big
stuff.
For example, if someone is coming to
your
house you would probably focus on dusting, vacuuming and making sure the "public" areas are neat and orderly. So you will make sure your kitchen, living room and bathrooms are clean.
I will
plan
to focus on that too. But
then
my sidetracked and perfectionist side will kick in, and I will begin to unload the dishwasher and notice that one of the cupboards or drawers is messy and all of a sudden I am deep in the throes of organizing that cupboard.
Or I will be in the bathroom making sure it is clean and "company" ready and suddenly I am sorting through the medicines to see if any of it has expired.
In attempting to get the living room cleaned I will put away the load of laundry that I folded. The next thing I know I am straightening my closet.
I KNOW that these things are low on the priority, but I always think that I will have more time than I do. I always underestimate my ability to NOT get sidetracked and I lose track of the time.
So if I'm not careful, what can happen is that it's getting close to the time when people are arriving and I've got messy counters in the kitchen, dog hair all over the floor, and makeup all over my bathroom counter.
But my kitchen drawer, medicine cupboard, and closet look good!
Unfortunately my friends won't see that. I can get sidetracked just as easily in my every day cleaning as well.
Image courtesy of David Castillo Dominici at FreeDigitalPhotos.net
When you have a lot to do and things seem overwhelming and out of control or you're stressed, it's so easy to just focus on one thing. Just
ONE thing
that you can do well and have control over. Just one thing that you can do from start to finish that might even STAY that way for longer than five minutes.
Which is a great idea and why I find myself doing it. Except that it doesn't help in my goal to get my home neat and ready for company in a hurry. It helps my desire to focus on one thing instead of many things. It helps my desire to stay in one place and not be running around like a chicken with its head cut off.
It helps my desire to complete something that I can see the results of. Finished. Done. I can SEE all that I have done and have a sense of satisfaction. But it
doesn't help
me get my living room, kitchen or bathrooms cleaned and ready for company.
What about you? Do you find yourself getting ready for company by cleaning out the garage, when you
really
should probably be focusing on the inside of the house instead? You're not alone. Welcome to the club!
Today let's do
focused cleaning
. Pick one thing
PER ROOM
to clean and write it down so you don't get sidetracked. Writing it down will meet your desire to focus on one thing and will also keep you from getting sidetracked.
When you're done cleaning that ONE THING cross it off and write down
another
thing. Make sure you keep your priorities in order and don't write down "clean the baseboards" when you
KNOW
you really need to do the dishes.
If you're having trouble staying focused and keep getting distracted, check out my post
"10 Ways To Avoid Getting Sidetracked While You're Cleaning,"
stay focused and make your home sing!
If you don't want to miss any blogs posts, you can subscribe
by
RSS,
Bloglovin,
Feedly
Facebook or Email
I'd love to connect with you!
I
am linking up to these linky parties: