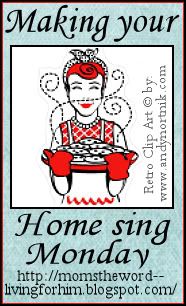 Welcome to the Making Your Home Sing Monday linky party! Every day you are doing something to make your house into a home for yourself and your family (if you have one).
My point with each Monday post is, what are YOU doing or going to do today to make your home sing? It can be an attitude or an action. So have fun, do some blog hopping, and link up!
Thanks!
Topics can include marriage, parenting, encouraging women, organization, cleaning, saving money, our behavior and attitudes, homemaking, homeschooling, recipes....the opportunities are endless.
Note: We
had

90
linkups last week which is awesome! Don't forget to visit one another and try to leave a comment
on at least one blog to encourage someone today! :)
Image courtesy of gubgib at
FreeDigitalPhotos.ne
t
I remember when my children were little, it was so comforting to know that I could keep them "safe" to the best of my ability.
I knew where they were at night. Safe in their own beds. They were too young to drive and too young to hang out with their friends on their own. They were HOME.
They were little boys and my husband and I were able to pretty much control their environment and control what we allowed into our homes and control the major influences in their lives (as much as a parent can).
I felt safe having that control. I LIKED having that control. I continually prayed for them and trusted them into God's hands. Then I wrapped myself up in my comforting blanket of control. It was hard to even think of letting go.
I often wondered how a parent coped when their children grew up. How would I cope when they were out of my control? How would I handle it when they were out in the world
without
me? How would I be able to sleep knowing they were out there driving a car????
You can wrap your child up so tight that they will struggle desperately to get loose. And you can hold them so loosely that they will struggle desperately to get your attention....it's a balance.
As they begin to grow, you begin to give up a little measure of
your
control. You let them play outside alone for the first time. You let them ride their bike on the sidewalk or street.
They begin to make friends on their own, develop a taste for music, start to have definite opinions about what they want to wear or how they want to style their hair.
I remember when my youngest did not want me to part and comb his hair away from his forehead anymore. I LOVED his hair all nice and neat and little-man-like, but he wanted it to just lay flat on his head with no "fancy" part. So I let him wear his hair the way he wanted because it was only hair but my mommy-heart realized my baby was growing.
As our children grow, we begin to grow with them. We grow in our parenting. There comes a point where they have to begin to make their own choices, and so we hope and pray that they make the right ones. We begin to trust them to be away from us.
Sure, sometimes they will make mistakes but we are still there to guide them. There may be times when they have to work to earn our trust again, and they work hard to do it.
They grow, and WE grow. We grow in our ability to let them be away from us, and we learn to pray as we watch the clock, and are so thankful when they are back home again.
We grow in our ability to let them take more control as we learn to let go and have less control. We grow in our ability to let them walk out the door with the car keys and not block the door with our bodies, or stand at the window the whole evening, watching and waiting for their return.
We grow in the ability to realize that life doesn't stop for us the minute they walk out the door

.
We grow in our ability to trust them into their Heavenly Father's care, and know that He is worthy of that trust.
We grow in our ability to love them
BETTER
, because to love them better means to let them grow and let them go.
What are

you

doing or going to do today to make your home sing?
Please go
here
for instructions and/or ideas and come back here to link up to join us today! Please do not put your own "Making Your Home Sing Monday" Linky on your blog.
If you don't want to miss any blogs posts, you can subscribe
by
RSS,
Bloglovin,
Feedly
Facebook or Email
I'd love to connect with you!
I am linking up
to these linky parties: