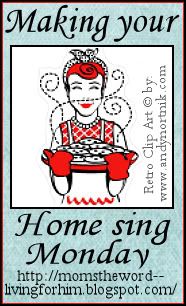 Welcome to the Making Your Home Sing Monday linky party! Every day you are doing something to make your house into a home for yourself and your family (if you have one).
My point with each Monday post is, what are YOU doing or going to do today to make your home sing? It can be an attitude or an action. So have fun, do some blog hopping, and link up!
Thanks!
Topics can include marriage, parenting, encouraging women, organization, cleaning, saving money, our behavior and attitudes, homemaking, homeschooling, recipes....the opportunities are endless.
Note:
We
had

98
linkups last week which is awesome! I'm sorry I wasn't able to visit all of you, but I do thank you and appreciate you linking up! Don't forget to visit one another and try to leave a comment
on at least one blog to encourage someone today! :)
Have you ever walked into a hotel room and just thought about how CLEAN it looks? And then a day or so later thought about how messy it looks
now?
Clothes, shoes, pop cans, chip bags, sunglasses, suntan lotion, makeup and all that stuff scattered everywhere. Of course, most of us don't care about how our hotel room looks, right? We're on vacation.
But how many of us live like we're on vacation when we're at HOME?
Take a moment and look around you right now as you read this. What is out of place? What do you see that doesn't belong in the room that you are in? Do you see garbage anywhere? What do you see?
As I type this I see two packets of instant oatmeal, a box of Krispy Kremes, a rolodex, an empty box of Dots candy, a piece of chocolate candy, a greeting card, a bag of chips, a camera, an empty water bottle, some papers, a receipt, a notebook, a marker, and a set of hand weights. All on top of the table.
(I also find it somewhat humorous that there's Krispy Kremes (the guys bought them), chips, chocolate candy, Dots candy and then an attempt to ward it all off and "get into shape" with hand weights, lol!)
What do YOU see around you?
The problem begins when we go to bed without erasing the evidence of our day
. Then we wake up to yesterday's evidence of a busy day, and begin a
new
day of busyness and all the clutter and "stuff" that
IT
entails. It just keeps piling up.
Pretty soon you have one solid week's worth of "evidence" that you have lived, that you have existed, that you have been busy working, having fun, enjoying your family, enjoying life.
But do we
really
want an empty box of Krispy Kreme's to be the
proof
of that? (O.k., maybe
I
do....)
And it's all there in your house, lying around for everyone to see. Including you. Day after day. Piling up.
So unless we want to spend our weekends digging out, or NEVER dig out and live on permanent vacation mode, we have
got
to find a way to deal with this "stuff."
To me, the best way is to

erase the evidence

. Just simply walk around each night, and put away the things that you left out during the day. I generally do this throughout the day to make it easier, but there's always something to pick up that last hour or two.
Image courtesy of AKARAKINGDOMS at FreeDigitalPhotos.net
When the kids were little we had a
whole house pick up
at 7:00 p.m. For 15 minutes we just ran around the house and picked up and put away. The kids would put their toys away, put away shoes or backpacks or whatever, and hubby and I would return dishes to the kitchen and load in the d.w., straighten pillows, put books away, etc. We all worked together for a quick pickup before bed.
We don't have an "official" family pick up now because my kids are older and there's no set time for everyone to pick up, plus many times I go to bed before they do! Ideally, everyone is supposed to pick up after themselves. I say "supposed to" because even
I
have my moments!
Years ago I started something that I called "
closing the kitchen
." It just meant that the kitchen was clean and it had BETTER stay that way for the rest of the evening, lol! It was just a way of reminding the kids to bring their dishes to the kitchen, load them in the dishwasher and clean up after themselves. That way I didn't wake up to a messy kitchen courtesy of my children! ;)
How about you? Do you have any kitchen "rules?" Do YOU erase the evidence? If you don't, try it today and make your home sing!
What are

you

doing or going to do today to make your home sing?
Please go
here
for instructions and/or ideas and come back here to link up to join us today! Please do not put your own "Making Your Home Sing Monday" Linky on your blog.
If you don't want to miss any blogs posts, you can subscribe
by
RSS,
Bloglovin,
Feedly
Facebook or Email
I'd love to connect with you!
.
I am linking up to these
linky
parties: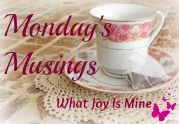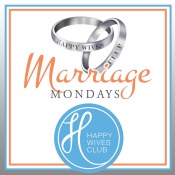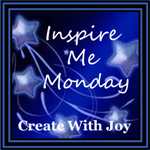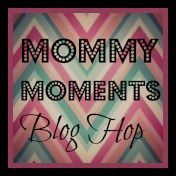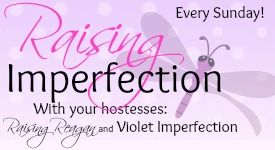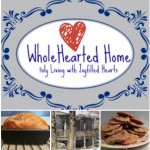 \

\