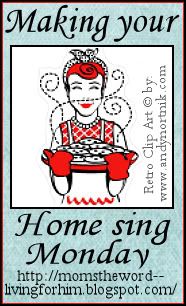 Welcome to the Making Your Home Sing Monday linky party! Every day you are doing something to make your house into a home for yourself and your family (if you have one).
My point with each Monday post is, what are YOU doing or going to do today to make your home sing? It can be an attitude or an action. So have fun, do some blog hopping, link up and don't forget to give a link back
to this post! Thanks!
Topics can include marriage, parenting, encouraging women, organization, cleaning, saving money, our behavior and attitudes, homemaking, homeschooling, recipes....the opportunities are endless.
Note:
We
had

103
linkups last week which is awesome! Don't forget to visit one another and try to leave a comment
on at least one blog to encourage someone today! :)
Ever so often we're going to have people in our lives who are very difficult to deal with. Sometimes those people are people you work with, your neighbors, maybe even people within your own family. It might even be your child's teacher, a relative or someone from your church.
You can't always just walk away when it's someone you have to work with or live with or see on a daily or weekly basis. Many times these situations force us to our knees in prayer.
But there's a difference between praying for someone and praying ABOUT them.
Praying
about
them is me telling the Lord what a difficult time and the struggles I'm having with this person, and praying for grace and strength and peace in my feelings about them and my dealings
with
them.
Praying
FOR
them is me actually praying for
them
. It can be hard to earnestly pray for someone when you're struggling with anger or hurt feelings towards them.
Image courtesy of adamr at FreeDigitalPhotos.net
Sometimes we have to learn to pray out of obedience before we can learn to pray out of love.
When we pray out of obedience, we are praying for them because we know we should. We are NOT praying that God will make them suffer and bring horrible things upon them.
We are praying FOR them, remember? Not against them.
Sometimes, we have to pray for God to love them
through
us because we're just not feeling it. We're hurt, we're angry, we're bitter.
And so praying for the source of our bitterness is difficult.
So we pray out of obedience.
We want to ask God to change our hearts and enable us to love this source of difficulty in our lives. But we don't WANT to love them. We don't even want to
pray
to love them.
During those times when we're struggling with praying for them and struggling with our feelings toward them, we have to pray to be
willing
to be
willing!
When someone hurt your feelings, pray for them.
When someone is a source of annoyance to you, pray for them.
When someone angers you, pray for them.
When someone is mean to you, pray for them.
When we pray we are bringing God's power to bear on a situation.
This is no small thing.
It is hard to hate someone you're praying for. It's hard to be angry against someone you're praying for. It's hard to be bitter against someone you're praying for.
You've probably heard the phrase
"hurting people hurt people."
That doesn't excuse their behavior, of course. It just means that they need our prayers. It just means it's not necessarily "personal." It just means that they are hurting too and their eyes are turned inward, not outward.
I am not a professional, of course, but here are just some of MY ideas of what to do when dealing with a difficult person (a.k.a. DP) in your life:
Image courtesy of adamr at FreeDigitalPhotos.net
1. Set up boundaries.
Praying for and extending love toward the Difficult Person in your life does not mean that you have to give in to everything they want, and doesn't mean that you have to allow them access to you 24/7. You don't have to share everything with them. It's o.k. to protect yourself as need be and have certain boundaries that must not be crossed unless YOU allow it.
2. If you cannot set up boundaries, have someone you trust set them

for

you.
For example, if you have a family member, such as a parent, who is always rude, hurtful and judgmental toward you, you might talk with your husband about it.
The two of you might come to the conclusion that it's not good for you to be subjected to that kind of treatment, and it's not good for your children to see you treated that way. So you and your husband might decide that you will not meet with your parent (or Difficult Person) alone nor speak with them unless your husband is present. This is an extreme case, of course, but sometimes it is necessary. At least for awhile.
Let your husband or a close friend be your
wall of protection
and protect you and set boundaries FOR you when you can't set them yourself.
3. Don't infer evil where none is intended.
Sometimes it might not
always
be them. Sometimes it might be you. Sometimes it might be me.
Sometimes, someone will say something and we will take offense to it when none is intended. Don't automatically decide that YOU know what someone was really thinking when they did something, and don't decide that you know what they REALLY meant when they said something. Be willing to take that at your word.
Be willing to give people the benefit of the doubt before automatically deciding they meant to be rude or hurt you. Before you get mad, be open to communicating and ask them "Were you talking about
ME
when you said that people can be rude and thoughtless?" For all you know, they were thinking about the person ahead of them in the store earlier that evening.
4. Be willing to ask "Have I offended you?" and say "I am sorry" for YOUR part in any conflict.
Be willing to listen and be sincere about wanting to know. Be honest with yourself and be willing to admit times when maybe
YOU
overreacted or were overly sensitive. Own up to
your
part in any argument that may have occurred.
Accept that you might not get an apology back. Don't expect it and that way you won't be disappointed.
Sometimes an "I'm sorry" is not going to change anything in regards to how your Difficult Person is going to behave toward you.
That's sad and frustrating. But remember, you're not trying to change them, only God can do that. You're just trying to figure out how to live with them at work or at a family get together or whatever.
We aren't responsible for someone else's actions but we ARE responsible for our own. But many times, an apology will go a long way to smoothing things over.
5. Pick your battles.
Some people have a difficult time
EVER
admitting that they're wrong.
D
on't be one of them.
You know that the last time you saw your Difficult Person was on Aunt Jan's birthday, but your DP insists that it was at Aunt Sarah's birthday. You KNOW you are right, but your DP will NOT admit that they are wrong and will not back down.
Sometimes, in the interest of peace, it might just be better to let it go. Who cares whose birthday it was? Does it really matter? Can you let it go? Sure, they will think that THEY are right and you are wrong, but it isn't your job to educate them, is it? You just have to find a way to get along with them for the moment.
Yes, you may have to bite your tongue sometimes in order to get along with your DP. Sometimes you will just have to take the higher road and trust God to give you the grace to zip your lip!
6. Don't be afraid to put some distance between you in a relationship and seek help when necessary.
Sometimes there are people who are "toxic" to you, or they will cling to you as if you were a lifeline and you feel as if YOU are drowning.
Don't let them pull you under
. It's o.k. to admit that you can't help everyone and that you need to step away and take a breath and let someone else step in.
I am talking about when you have someone who is emotionally, spiritually and physically draining you with their needs, problems and
demands
.
You don't have to be the one who does everything for them. For example if your DP is a family member, let your siblings or other family members help. Get together and make a plan.
If your DP is really struggling, sometimes the best thing you can do is put a loving, supportive but firm distance between you for awhile and lovingly encourage them to seek professional help.
Don't ever tell yourself that prayer is a waste of time.
Prayer changes things, prayer changes hearts, prayer changes people. Prayer changes YOU. Prayer changes me. Don't ever give up on it. Don't ever give up on
Him
.
What are

you

doing or going to do today to make your home sing?
Please go
here
for instructions and/or ideas and come back here to link up to join us today! Please do not put your own "Making Your Home Sing Monday" Linky on your blog. As always, please
don't forget to link to this post
so that others can join the fun!
If you don't want to miss any blogs posts, you can subscribe
by
RSS,
Bloglovin,
Feedly
Facebook or Email
I'd love to connect with you!
I am linking up
to these linky
parties: