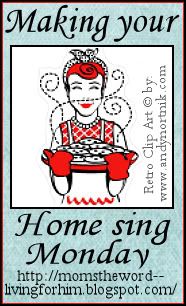 Welcome to the Making Your Home Sing Monday linky party! Every day you are doing something to make your house into a home for yourself and your family (if you have one).
My point with each Monday post is, what are YOU doing or going to do today to make your home sing? It can be an attitude or an action. So have fun, do some blog hopping, link up and don't forget to give a link back
to this post! Thanks!
Topics can include marriage, parenting, encouraging women, organization, cleaning, saving money, our behavior and attitudes, homemaking, homeschooling, recipes....the opportunities are endless.
Note:
We
had

85
linkups last week which is awesome! Don't forget to visit one another and try to leave a comment
on at least one blog to encourage someone today! :)
I've been wanting to do a post about procrastination but I keep putting it off.........
Do you ever get overly enthusiastic about a
cleaning
or
organizing
project and get everything out but fail to follow through?
It's so easy to get excited about organizing a room or a closet and start dragging everything out of it, only to lose your energy and enthusiasm before you're even halfway through.
I remember wanting to organize the kid's toy closet once when they were younger. I was all excited and enthusiastic and couldn't wait to get started.
I began by removing everything that was on the floor and things that were tossed onto some of the lower shelves (instead of put in their correct bin or storage container) and dragging it all into the family room.
By the time I cleared the floor and two lower shelves I was no longer enthused about it. I no longer wanted to do it and I had barely even started!
Sometimes we procrastinate on the follow through. We are good beginners but poor finishers. We get excited about the
idea
of it but not excited about the
work
part of it.
We're good about getting things started but we're lousy about finishing up. Suddenly what started out as fun has turned into WORK!
We can walk around our homes and see little bits of things that we BEGAN but we've been putting off on finishing.
Image courtesy of Sura Nualpradid at FreeDigitalPhotos.net
All along we think our problem is
starting
but it isn't. It's
finishing!
We don't finish what we start.
We have to find a way to keep going.
There's a reason that there is a "finish line" at the end of a race. People are excited to
start
the race, but they need to know where the
end
is.
They need to know that there is an END to it so that they can aim for it and race for it, and reach for that goal. They need to know when the race is over so they can move onto something else.
Otherwise, they might just wander around the neighborhood looking for the banner that signifies the end of the race. They would keep stumbling around, never finding the finish line and eventually just
give up.
Image courtesy of Ambro at FreeDigitalPhotos.net
Don't give up! Finish what you start!
1.
When you start a project, don't take out more than you can easily put back.
Only take out what you can put back in a half hour or an hour. That way, if life gets in the way and you suddenly find yourself hosting a dinner party, your guests won't have to walk around the contents of your coat closet or sit on the floor because the furniture is filled with contents from the closet. Which leads me to #2......
2.
Process what you're pulled out BEFORE you pull out more.
Don't get carried away. Use baskets or bags to make piles of things
Keep, Give Away, Throw Away and Undecided
and process things
as you go.
3. Don't start more than one organizing project at a time.
S
tick to one task. It's easy to trash one room or one area and lose your enthusiasm and go off and find something else to "organize" instead.
4. If you're having trouble finishing what you started, set a timer and work on it a little bit every day.
Sometimes we have to use a little motivation to get the job done. A timer is a great idea because the time is limited. You can work hard, knowing that there is going to be an
ending
to it soon. You can work hard for 15 minutes, can't you?
5. Use those little minutes.
Don't wait for big blocks of time that may never come. Don't use
time
as your excuse, otherwise you're probably going to be living with those unfinished projects for a very long time. Just use the little blocks of time that you have.
5 minutes x 6 days a week = 30 minutes of work that week.
15 minutes x 6 days a week = 90 minutes of work that week.
30 minutes x 6 days a week = 3 hours of work that week.
Image courtesy of Stuart Miles at FreeDigitalPhotos.net
Use the little minutes that you have, don't take on more than you can handle that day, and finish what you start and make your home sing this week!
"Therefore, since we are surrounded by such a huge crowd of witnesses to the life of faith, let us strip off every weight that slows us down, especially the sin that so easily trips us up. And let us run with endurance the race God has set before us."

Hebrews 12:1 (NLT)
What are

you

doing or going to do today to make your home sing?
Please go
here
for instructions and/or ideas and come back here to link up to join us today! Please do not put your own "Making Your Home Sing Monday" Linky on your blog. As always, please
don't forget to link to this post
so that others can join the fun!
If you don't want to miss any blogs posts, you can subscribe
by
RSS,
Bloglovin,
Feedly
Facebook or Email
I'd love to connect with you!
I am linking up to
these linky
parties: