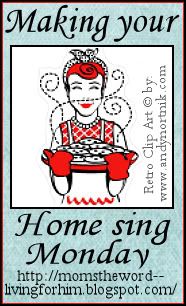 Welcome to the Making Your Home Sing Monday linky party! Every day you are doing something to make your house into a home for yourself and your family (if you have one).

My point with each Monday post is, what are YOU doing or going to do today to make your home sing? It can be an attitude or an action. So have fun, do some blog hopping, link up and don't forget to give a link back

to this post! Thanks!

Topics can include marriage, parenting, encouraging women, organization, cleaning, saving money, our behavior and attitudes, homemaking, homeschooling, recipes....the opportunities are endless.

Note:

We had

over 60

linkups last week which is awesome! Don't forget to

visit

one another and try to leave a comment

on at least one blog to encourage someone today! :)
Image courtesy of Stuart Miles at FreeDigitalPhotos.net
Today someone stole my parking spot at the grocery store. It irritated me. That was MY spot, right? I had my turn signal on and I was ready to pull in there as soon as the driver finished backing out of it. But the lane on the
other
side had an empty spot so another car drove through that empty spot right into "MY" spot.
I had to find another place to park. As I walked past her car (she was sitting in it texting) she looked up and smiled at me, so I smiled back. I walked into the building thinking how ridiculous I am to feel like I OWN a parking spot.
So what if I have to walk a bit further? So what? It doesn't hurt me and I could certainly use the exercise to strengthen me. Both in my body and in my character.
My problem is that it's "not fair." It's "breaking the rules" of common courtesy.
It's cutting in front of me in line at the store, not giving me the
thank you
wave (that I "deserve") when I let your car in front of me. It's having 20 items when you're only supposed to have 15, it's "stealing"
my
parking spot because you are either unaware that you did or too lazy to find your own, and I'm pretty sure you
KNOW
what you did! ;)
When our kids were little we taught them to share their toys, to be willing to help others, to let others go first. We taught them to be polite and courteous and kind.
And I believe in everything that we taught them.......
.....
Until
I get to the grocery store and someone steals my parking space. Until I am driving down the street and some car cuts me off or honks at me. Until I am at a four way stop sign and some car goes when it's clearly MY turn. Until someone cuts in front of me at the fast food restaurant and places their order before mine. Until the salesgirl waits on someone else when I was next.
It's my turn. MY turn!
I am annoyed, angry, frustrated.
Suddenly I am too busy to wait in line. I am too impatient to wait for you to move your car, I was there first. I am like a child and YOU took my turn.
The other problem is that I feel the need to "educate" you. If I am gracious to you and let you cut in front of me in line, you'll never learn, right? If I allow you to take my parking spot without honking my displeasure, how will you know that I think that's rude?
The real problem, I think, is ME. I taught my kids to think of the other person, to give up their rights, to a certain extent, in order to be kind to someone else.
I taught my kids to stick up for themselves when something mattered, but consider letting it go when something didn't matter.
I did not teach them to let people walk all over them, I just taught them that
some things weren't worth fighting over
or getting upset about. Some things weren't worth ruining their day or their relationships over.
And then I forget everything I taught them as I go walking about in my life.
I forget to see the glory of the sunset because I'm too busy trying to protect my parking spot.
I miss the beauty of the flowers because I'm too busy making sure that I get MY turn at the stop sign.
I miss the laughter and the joy of the people right next to me because I am too concerned about my rights being trampled on by the person right in front of me.
When I am so concerned about "educating" you, I forget that I need to educate ME.
When I allow myself to get upset about petty or unimportant things, I am upset for a lot longer than the actual "transgression" that took place.
Your taking my parking spot may have taken seconds, but I can carry that anger around with me for a lot longer if I allow all those annoyances to take root in my heart. You may have already forgotten that you cut in front of me in line, but I may hold onto my anger all the way home. I may even snap at my husband or children when I get home when the person I'm really angry with is
you
.
If I carry that anger or bitterness into my day, I am allowing unimportant things to steal IMPORTANT things, such as my peace, joy, happiness.
What's more important? Having your parking spot or your joy? What's more important, being next in line or being next to your sweet child? What's more important, holding onto anger and bitterness or holding onto your peace and contentment?
As you go about your day, look for your joy stealers.
Those little things that frustrate and annoy you. Life is full of them.
Life is
going
to steal your parking space. Are you going to let it steal your joy too? What are you going to do about it? What do you value more? Your peace or your parking space?
What little "unfair" things are not worth fighting over or destroying relationships over, and yet they are annoying you today and robbing you of your joy?
Let them go and embrace the beauty around you. Don't carry your particular "parking spot" issue into your day and allow it to ruin it. Let it go and make your home sing today!
What are

you

doing or going to do today to make your home sing?
Please go
here
for instructions and/or ideas and come back here to link up to join us today! Please do not put your own "Making Your Home Sing Monday" Linky on your blog. As always, please
don't forget to link to this post
so that others can join the fun!
If you don't want to miss any blog posts, you can follow me or subscribe in
your reader
or subscribe on
Bloglovin
,
or by
email.
You can also find me
here
on
facebook
as well! I'd love to connect with you!
I am linking up to these parties: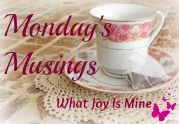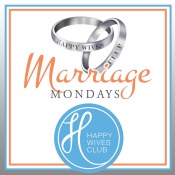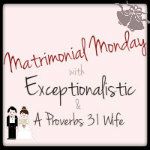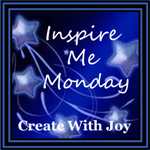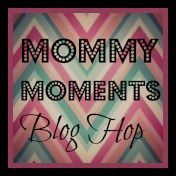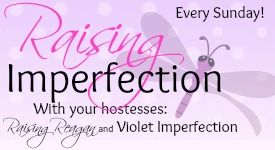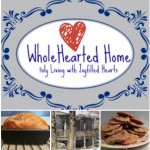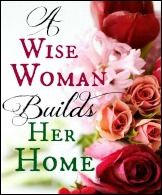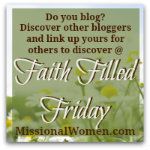 Also,
We Are That Family