One day I held my fussy baby, looked out the window, sighed and thought "Is this it? Is this my life? Is this all I get in life, Lord? This is it? There must be
more
to life, Lord."
I felt empty. I felt discouraged. I felt that motherhood was not living up to its expectations.
I felt that
I
wasn't living up to
its
expectations.
How could I want anything more than this precious baby that I was holding in my arms? Why did I feel like I was missing out on something? Why did I feel so unfulfilled?
Should I go back to work? Was that it? Would work fulfill me?
At work I'd had a very good job. I received great reviews from my boss, made more money than my husband and although the work was stressful and a challenge, I thrived at it. After my first child was born I longed to be home with him so I quit.
I
still
wanted to be home. I didn't want to go back to work, I knew that. But I just felt like there had to be more to life than diapers, and wiping noses, and picking up toys and dishes, lots of dishes. Dishes and diapers. The future stretched out before me and I didn't feel confident.
My self-esteem was tied up in my home. If things ran smoothly, I felt good about myself. If things didn't go so well that day I felt bad about myself.
My self-worth went up and down with the emotions and events of my day.
On a good day I felt vibrant and confident and I could take on the world. I was mother, hear me roar. This particular day found me staring out the window, holding my baby and crying silently, feeling like a failure and wondering if this was all I would ever get out of life. Dishes and diapers.
Where was the joy?
Sometimes we forget how important dishes and diapers are. Sometimes we get caught up in the emotion and we forget that life is made of moments like these.
Every moment of life is incredible. We are walking, breathing miracles. We are made for a purpose.
Whatever we do, whether it's working inside or outside the home, whether it's wiping noses, changing diapers, driving to soccer games or checking homework, whatever we do is important. The Lord showed me that, that tearful day. We are investing our lives in our families, and that stands for something.
It stands for a woman who cares. Who is making a difference right where she's at, because she knows that God has placed her there. And if God has placed her there, then she is in the best place that she can be.
So where is the joy?
It's in kissing an owie to "make it better." It's in your baby's arms when they reach out for you. It's in your preschooler's tight hugs around the neck and whispers of "I love you, mama."
It's the face of your child, searching for
your
face in a crowd, just to make sure that you are still there, watching them. It's in the "Wow, mom, I'm TALLER than
you
now!" and the "Mom, can I borrow the car keys?"
It's in the dishes and the diapers when you know that you are doing them for someone you love.
Dishes and diapers are important. But life isn't about dishes and diapers. Yes, there IS more to life, mom! And you're holding it right now in your arms. You kissed it goodnight last night, and you'll be yelling at it to get up in the morning for school.
When we only focus on what we do, we will feel discouraged and empty and unfulfilled, because dishes and diapers never fulfilled anybody.

When we focus on

who

we're doing it for, we will find the joy. We do it for them, and we do it for Him.

"Let us not become weary in doing good, for at the proper time we will reap a harvest if we do not give up." Galatians 6:9







So don't grow weary! Don't get lost in the dishes and diapers and laundry. You may not see the benefits of what you're doing now but they are there. You just need to remember to look for them. You are building for the future - your future,

their

future.

Are you there today, my friend? Is motherhood not living up to YOUR expectations? Don't give up. There

IS

more to life, mom. And it's staring you right in the face.

Let go of the mundane and embrace the incredible. You are a

mom

. You are amazing!

If you don't want to miss any blog posts, you can follow me or subscribe in

your reader

or by

email.

You can also find me

here

on

facebook

as well!

Follow my blog with Bloglovin

I'd love to connect with you!

Be sure and come back

Monday

and link up to the

Making Your Home Sing Monday linky party!

I am linking up to these linky parties today: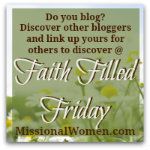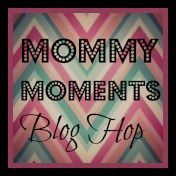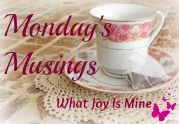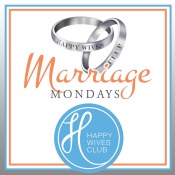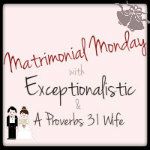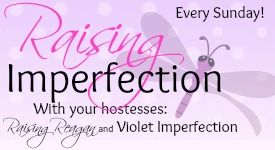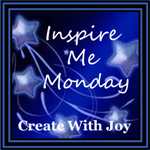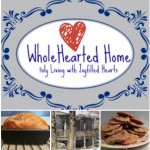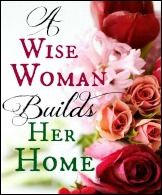 Also,
We Are That Family