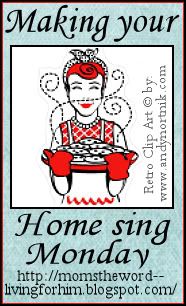 Welcome to the Making Your Home Sing Monday linky party! Every day you are doing something to make your house into a home for yourself and your family (if you have one).
My point with each Monday post is, what are YOU doing or going to do today to make your home sing? It can be an attitude or an action. So have fun, do some blog hopping and if you want, link up!
Topics can include marriage, parenting, encouraging women, organization, cleaning, saving money, our behavior and attitudes, homemaking, homeschooling, recipes....the opportunities are endless.
Back in January when I hurt my back and went on modified bed rest for awhile I discovered three things:
1. Yoga pants are very comfortable.
2: Yoga pants are very fattening.
3. Yoga pants tell my body I am "off duty" for the day.
Previous to this I had never owned or worn a pair of them. But they are very comfortable, as I said, and worked really well with my heating pad!
They are, however, fattening. I did gain some weight and yes, I blame some of it on my injury and the fact that I couldn't exercise. But I also blame yoga pants. ;)
How can you NOT blame them? You put them on day after day and you don't notice if you've gained a few pounds, as they keep stretching. At least,
mine
did.
I found myself wearing them all day long, even when my back started feeling better. Who could blame me? They're just so comfortable.
In fact, if I'd wanted to, I could have worn them to bed with a t-shirt and then got up and gone to the store without ever having to change my clothes. I could have worn them and the t-shirt for days on end and fooled myself into believing I'd actually gotten dressed for the day.
Now, I'm not knocking your yoga pants. I've seen lots of women out there wearing them in the stores, etc.
What I AM saying is are you
sleeping
in them too? Have you eliminated the need to get dressed in the morning because you're sleeping in your yoga pants and a t-shirt? Or have you eliminated the need to get dressed because you're wearing your
pajamas
all day?
What we wear can affect our mood and how we feel about ourselves.
.
If you don't believe me go out and try on the ugliest outfit you can find and then tell me how you feel in it. Then try on the prettiest outfit and
now
tell me how you feel in it.
If you were out and saw someone else wearing the same clothes that you are wearing today, what would be your perception of them?
What is your outfit saying about you today and every day? Does it say you're settled in for a day of watching t.v., playing on the computer, reading a good book and then maybe doing a load of laundry if you can find the time?
Are you wearing clothes every day ALL day that are telling you you're on
vacation
so take it easy, don't do anything and sit down and relax? What are your clothes saying to you? What are they saving
about
you?
Do they say that you care about yourself? That you want to look pretty for your husband, family and for yourself? Does it set a good example for your children?
When I worked outside the home I had to dress professionally. I dressed for my job.
What job are
YOU
dressing for today? Or rather, what does it
look like
you're dressing for?
Bed?
I've seen lots of people who look adorable in yoga pants and cute long tops. But as they look pretty well put together I don't think they are using them as an excuse not to get dressed. I think they dressed intentionally.
Are YOU dressing intentionally?
Do you look like you've made an effort today? Do you care enough about yourself to
make
the effort or do you feel like you've let yourself go?
If you have young kids and you are tired, many of us have been there, my friend, and we can relate. Maybe you can't get in the shower yet but you can brush your teeth, comb your hair, and get dressed! You can still plant a smile on your face and in your heart! Do it now and make your home sing today!
What are

you

doing or going to do today to make your home sing?
Please go
here
for instructions and/or ideas and come back here to link up to join us today! Please do not put your own "Making Your Home Sing Monday" Linky on your blog. As always, please
don't forget to link to this post
so that others can join the fun!
If you don't want to miss any blog posts, you can follow me or subscribe in
your reader
or by
email.
You can also find me
here
on
facebook
as well! I'd love to connect with you!
I am linking up to these linky parties: