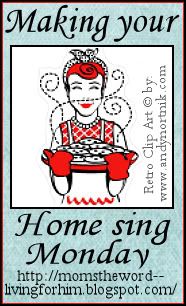 Welcome to the Making Your Home Sing Monday linky party! Every day you are doing something to make your house into a home for yourself and your family (if you have one).

My point with each Monday post is, what are YOU doing or going to do today to make your home sing? It can be an attitude or an action. So have fun, do some blog hopping, link up and don't forget to give a

link back

to this post! Thanks!

Topics can include marriage, parenting, encouraging women, organization, cleaning, saving money, our behavior and attitudes, homemaking, homeschooling, recipes....the opportunities are endless.

Note:

We had

75

linkups last week which is awesome! Don't forget to

visit

one another and try to leave a

comment

on at least one blog to encourage someone today! :)

When I was a little girl I loved to play "pretend." My friends and I would choose someone to be. I was a bit of a tomboy so sometimes I was a pirate. Sometimes I was a beautiful princess, sometimes a mommy, sometimes a cowgirl, sometimes I was a superhero.

It was so much fun to pretend to be someone else. I would have a car, a big house, a dozen children, maybe even my own jet! My world was whatever I created it to be.

Sometimes as adults, we "pretend" to be someone else. Many times we don't even realize we're doing it.

We watch how our friend is so welcoming to others, or how our pastor's wife parents her children, or how our neighbor always seems to be so patient and kind, and so we adopt their behavior.

It's not a bad thing to emulate someone else's positive behavior.

But sometimes we can get so lost in trying to

BE

like that person we admire so much that we get discouraged because we feel like we fail to measure up.

We fail at being them because we AREN'T them.

We forget that God designed us with our own unique gifts and talents and personality.

We forget that we are to model Christ, not our best friend.

We forget that God's plan for us is based on

our

personality, our gifts and our abilities; not our best friend's, not our pastor's wife, not our neighbor's.

You will always fail at being someone else. Always.

But you cannot fail at being

yourself

. Oh sure, you may stumble a bit as you find yourself losing your patience or snapping at someone or saying words you wish you could take back.

We all fail at one time or another. This is because we're not perfect, we sin, but we're growing every day and prayerfully becoming more like Him.

But you won't ever fail at being YOU. You can't, because God designed you to succeed. He has given you just the right gifts, talents, personality and abilities to succeed at being YOU.
Image courtesy of Ambro at FreeDigitalPhotos.net
Would you rather be the best YOU that you can be or an inferior copy of someone else?
So stop comparing yourself to someone else and feeling guilty because you don't measure up. You were never created to measure up to them.
He has equipped you to be the YOU that He has designed you to be.
The you that follows HIM.
You fail when you try to be someone else. You will succeed when you try and be yourself. Just
keep
being YOU and following after Him and make your home sing today!
What are

you

doing or going to do today to make your home sing?
Please go
here
for instructions and/or ideas and come back here to link up to join us today! Please do not put your own "Making Your Home Sing Monday" Linky on your blog. As always, please
don't forget to link to this post
so that others can join the fun!
If you don't want to miss any blog posts, you can follow me or subscribe in
your reader
or by
email.
You can also find me
here
on
facebook
as well! I'd love to connect with you!
I am linking up to these parties: