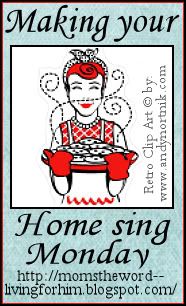 Welcome to the Making Your Home Sing Monday linky party! Every day you are doing something to make your house into a home for yourself and your family (if you have one).

My point with each Monday post is, what are YOU doing or going to do today to make your home sing? It can be an attitude or an action. So have fun, do some blog hopping and if you want, link up!

Topics can include marriage, parenting, encouraging women, organization, cleaning, saving money, our behavior and attitudes, homemaking, homeschooling, recipes....the opportunities are endless.

So guess what, now you're a parent and love hanging out with your friends and their children for play dates. Suddenly something happens and you notice your friend screaming at her children.

You are shocked. You rarely even raise your voice with your kids, let alone scream at them. You can't believe she is doing that.

Perhaps one day you are shopping with another friend and her children at the mall and your child keeps reaching for something so you say no, and when she reaches again you give your child a gentle but slightly firm slap on her hand.

Your friend is stunned and stares at you, open mouthed and eyes frowning with disapproval. She can hardly believe you did that.

Welcome to the world of friends who parent differently than you do. Pull up a chair, it's going to be quite a ride! Can you continue to maintain a friendship with someone who is your best friend but is so directly opposite you in parenting?

Few things can strike at a parent

more

than when someone questions their parenting skills.

In their mind, it's tantamount to questioning their

love

for their children. You just don't do it.

And yet, friends don't let their friends parent their children "wrong," do they? Do they?

I have had friends who parent differently than I do. Sure, we held a lot of the same values but we went about some of them differently. We also had different viewpoints on things.

I was normally not a yeller or screamer at my kids, although I did raise my voice on more than one occasion! ;) But yelling and screaming just really wasn't my thing. But I have known people who have said that they were screamers and yelled at their kids.

I have had friends who were really disciplined and more routine in their parenting, and had friends who were more laid-back and mellow.

A friend of ours let her son pierce his ears at 14. We didn't allow our son to pierce his ears until he was 18. We allowed another son to dye his hair blond at 15, whereas another friend wouldn't let her son dye his hair at all. We allowed our teenage son to grow his hair longer, another was unhappy because her son wanted to cut his hair

shorter

.

We expected our children to be respectful of our home and its furnishings, and no running in the house or up or down the stairs, or you might get hurt. This was hard for my relaxed friend who didn't want to stifle her children with a bunch of rules and didn't believe in a lot of discipline. Nothing they did fazed her.

I did not allow my children to get away with hitting one another but someone I knew once told me it was just part of how siblings should grow up, and that it was to be expected and that there really wasn't anything you could do about it. I didn't agree.

You can drive one another nuts with your parenting styles. But sometimes, as hard as it is, you just have to keep your mouth shut. Some things just don't matter, If a child is not being abused and is in no danger, than sometimes you just gotta let it go.

It's hard because you may see a dear friend heading down the same path that YOU did, and you want her to avoid making the same mistakes that you did.

Well, will it kill her to learn them for herself? Didn't YOU learn it that way? Yes, it's the hard way but some of us are stubborn!
Here are some suggestions when you are struggling with how your friend is parenting her children:

1. Try to keep your friendship

separate

from your parenting.

Remember what you like about each other. Remember that she has the God-given right to bottle feed that child if she wants, and you have the same right

not

to. Remember that she has the right to homeschool her kids (or stick them in public school) and you have the right to do the opposite.

2. Just because something worked for you doesn't mean it will work for her.

People are different,

children

are different. What worked for your child may not work for hers. Maybe she's tried it already!

3. Be there with a listening ear when she needs to vent without the "I told you so."

So you warned her two years ago that she was making a mistake letting the baby sleep in her bed. Now she's exhausted and fighting a screaming toddler who doesn't want to sleep in his own bed. Don't grin with glee and say "Hahaha, I warned you!" Be sympathetic and if she asks, tell her what worked for you instead of "I told you so!"

Just sympathize and encourage her, reminding her that her toddler will eventually sleep in his own bed before he's sixteen.

4.

Remember that you CAN learn something from each other

. Just because you parent differently doesn't mean that you can't learn some good things from one another. Maybe you're too strict and could loosen up a bit and have some fun. Maybe she's too lax and could do with a boundary or two.

5.

Agree to disagree.

You don't have to sit there and violently defend to the death (of your friendship) your beliefs as to which diaper is the most absorbent diaper and at what age you should start them on solids. It's o.k. to have different opinions.

6.

Ask yourself what's more important: your friendship or her children going to bed by 8:00 p.m.

You've been friends for years - do you really want to end it over an 8 p.m. bedtime? So what if her kids go to bed at 8:30 or 9:00?

7.

Choose your "battle" and your timing.

There may BE a time when you feel God impressing something upon your heart to share with your friend. Perhaps she is running herself herself ragged and you really want to encourage her to stay home more.

Then you share out of love and out of the things that God is showing YOU. But you accept that your way is not the only way or even necessarily the BEST way, and so you don't get bossy and all attitude about it whenever you DO find something that you want to encourage her about. You make it a love fueled prayed over suggestion, not a demand.

8.

Understand the difference between "encourage" and "bossy" and where that line is, and simply love and pray for one another.

After all, isn't it nice to know you can pray for one another?

9.

Don't try to "change" her.

This is a mistake that we sometimes make with friends and family. We try to change them. For one thing, what's right for you may not be right for her. Just because God's telling YOU something doesn't mean he's telling her the same thing. For another thing, if you think she

needs

to change, can't you trust God to make that decision and change her heart if necessary?

10.

Know when to be quiet and when to say "It's none of my business."

Sometimes you just need to be quiet, period. You don't need to win every diaper argument or bedtime "battle" and neither do I. We don't have to give our opinion on everything.

You aren't going to see eye to eye on everything about parenting. Maybe you like cloth and she likes disposables. Maybe you homeschool and she doesn't. Maybe you're focusing on character training right now and she's focusing on chore training. That's o.k. God made us all unique, you know! ;)

Just appreciate the friendship you have and realize that you can

both

learn things from each other, and make your home sing today!

What are

you

doing or going to do today to make your home sing?

Please go

here

for instructions and/or ideas and come back here to link up to join us today! Please do not put your own "Making Your Home Sing Monday" Linky on your blog. As always, please

don't forget to link to this post

so that others can join the fun!

If you don't want to miss any blog posts, you can follow me or subscribe in

your reader

or by

email.

You can also find me

here

on

facebook

as well! I'd love to connect with you!

I am linking up to these linky parties: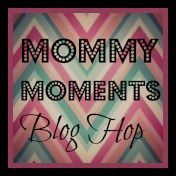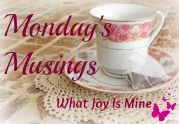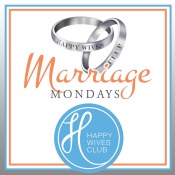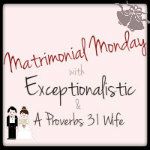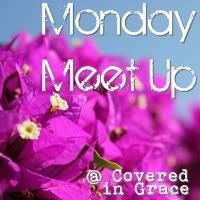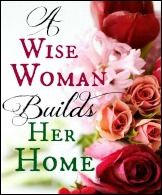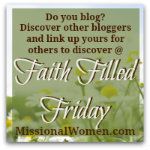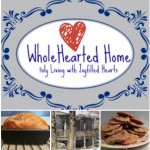 Also
We Are That Family