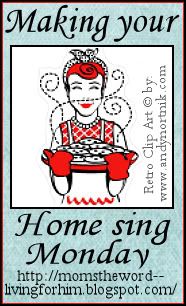 Welcome to the Making Your Home Sing Monday linky party! Every day you are doing something to make your house into a home for yourself and your family (if you have one).
My point with each Monday post is, what are YOU doing or going to do today to make your home sing? It can be an attitude or an action. So have fun, do some blog hopping and if you want, link up!
Topics can include marriage, parenting, encouraging women, organization, cleaning, saving money, our behavior and attitudes, homemaking, homeschooling, recipes....the opportunities are endless.
Today a woman shared a story abut a gal telling her that "I know I need to be in church but it's just too hard because I have a child now." This gal told that story to a gal who has TWO children.
Another mom, upon hearing the story commented "My daughter can't come to church anymore either because, you know, she has
three
kids now and it's just too hard to get out of the house with three kids."
However, her same daughter manages to get out of the house five days a week in order to get to work on time and also managed to get the kids to Disneyland every morning when it opened while on vacation.
Have you ever heard a mom say "I can't keep a clean house because I have kids" or "I can't talk on the phone anymore because I have kids" or "I weigh twenty pounds more than I did before the kids were born and it's just impossible to lose it because I had a kid?"
Have you ever said it?
I have!
After my youngest was born I lost all but ten pounds and I just "couldn't" lose the rest of the weight, so it was
his
fault, right? It couldn't possibly be my lack of discipline, lack of exercise, lack of desire and lack of a proper diet.
Surely all those french fries, chocolate donuts, m&m's and pepsi's couldn't be to blame, could they? Your body changes after having children, right? So you can't expect to ever be able to lose weight again, so bring on the chocolate!
We can't keep the house clean because the minute we clean it
they
tear it up again, and so it's
their fault
, right? It couldn't possibly be the fact that we never cleaned it because we spent more time playing on the computer or watching t.v. than we should have, right?
Or constantly gone outside the home so that we are rarely home, never trained them how to clean, never made them clean or pick up after themselves, never had chores or rules or responsibilities, right?
We can't talk on the phone because we are too busy to train our children how to behave when we are on the phone, or we can't let the answering machine answer it for us and we can't try returning your calls when the children are asleep or in bed, can we?
How many things are we blaming our children for that isn't really their fault, but instead is a lack of discipline or forethought on our part?
If we don't want a clean house because we'd rather spend our time playing on the computer then fine, that's our choice, but
don't blame the kids.
If we don't want to lose those last ten pounds because it involves work that we're not willing to do then fine, but
don't blame the kids.
If we can't get to places on time because it involves getting up a half hour or hour earlier than normal and we're not willing to go to bed early enough to accomplish that, then fine, but
don't blame the kids.
No wonder some people have a lousy idea of motherhood. They see motherhood as something that ruins your body, ruins your marriage, ruins your home, ruins your fun, ruins your brain cells, ruins your job, and ruins your ability to make and keep a commitment.
What are we saying about parenting if we say that, because of children, we are no longer able to attend church and fellowship with other believers?
If, because of children, we will no longer get to your house on time EVER and so we will make you sit and wait, because our time is more valuable than yours. So we won't even make the
effort
to be on time, because we know that YOU know that we have kids, and so we will always be late both now and forever. Oh, and we'll
yell
at the kids all the way to your house because it's THEIR fault, right?
If, because of children, we can't figure out how to find time to get dressed that day and make ourselves attractive not only for our husbands but for ourselves, so we wear our pajamas or yoga pants and raggedy old t-shirt all day, every day.
If, because of children, we can't put two brain cells together to figure out that we can no longer leave the house the same time we did as
before
we had kids, because now we have to get little ones into clothes, coats and car seats.
If, because of children, we can't manage to get the laundry started or dinner on the table and yet we managed to spend a grand total of two hours on the internet today on facebook or playing games.
When I was training my children how to behave during phone calls, I used to call a patient friend or my mom and
beg
them to call me on the phone, with the understanding that most of the phone call would be me training my children what to do and how to behave while I was on the phone.
There are things that we can do in order to identify and solve the problem, but first we have to stop blaming the kids.
Sitting around complaining and blaming everyone and everything for our problems never helps us find any solutions.

We need to name the problem (without blame) and then prayerfully nix (stop) the complaining and move forward towards a solution to fix it!
Don't name it and blame it, instead nix it and fix it!
This is not to say that parenting is easy and all we have to do is "decide" to fix it and we will fix it. Parenting is wonderfully exhausting, but if we don't have a plan and a purpose we will get lost in the details. If we don't work on the little things that are frustrating us, and blame the kids instead, these things will continue to frustrate us and can rob us of the joy of parenting!
Don't feel bad for the things you cannot change, just work on changing the things that you can.
Now I do think that we need to allow some flexibility whenever a new baby enters the family or a new job, grief, illness or any kind of new situation that requires a learning curve. But does that learning curve have to be ten years long until that new baby is ten years old???
Sometimes life happens and we have legitimate excuses, but sometimes it's not life, it's
US
and we are just
making
excuses, and we
know
it and just don't care.
What about
you
today? What are YOU blaming the kids for? Do
YOU
care? Figure out what it is, figure out if you need to make a change, make plans how you're going to do it and make your home sing today!
What are

you

doing or going to do today to make your home sing?
Please go
here
for instructions and/or ideas and come back here to link up to join us today! Please do not put your own "Making Your Home Sing Monday" Linky on your blog. As always, please
don't forget to link to this post
so that others can join the fun!
If you don't want to miss any blog posts, you can follow me or subscribe in
your reader
or by
email.
You can also find me
here
on
facebook
as well! I'd love to connect with you!
I am linking up to these linky parties: