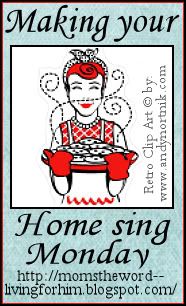 Welcome to the Making Your Home Sing Monday linky party! Every day you are doing something to make your house into a home for yourself and your family (if you have one).
My point with each Monday post is, what are YOU doing or going to do today to make your home sing? It can be an attitude or an action. So have fun, do some blog hopping and if you want, link up!
Topics can include marriage, parenting, encouraging women, organization, cleaning, saving money, our behavior and attitudes, homemaking, homeschooling, recipes....the opportunities are endless.
Well I don't know about you but WE sure had an eventful weekend. Our oldest son is engaged. Yesterday he asked his girlfriend of two years to marry him, and she said yes!
We already knew that he was proposing so it was just a matter of keeping our mouths shut and keeping it a secret until he popped the question.
Those were the feelings behind
this
post that I wrote last week about my children growing up.
They met their third year of college and developed a friendship that turned into love. We love her and we love her family too!
She's a beautiful girl, inside and out and they really complement each other. I'm just going to have to get used to that whole "mother-in-law" thing, lol! I just can't imagine myself as a mother-in-law as I can't believe that my son is "old enough" to be married, even though he's 24!
Anyway, I don't have a post today. My laptop is having trouble and so I am using our old computer and am having issues with that as well. So I gave up on a post and am fighting to post this. I plan on posting as usual this week but if I don't, it will be due to computer problems.
Note

:
Just wanted to add how excited I was to see
51 of you link up
last week!
Thank you
for participating
. I loved reading every one of your posts. I hope that you will take a moment to visit one or two links yourself this week, and let them know that you dropped by so they can hop back and read
your
link! Also, it looks like hubby has fixed my laptop so blog business as usual this week!
What are

you

doing or going to do today to make your home sing?
Please go
here
for instructions and/or ideas and come back here to link up to join us today! Please do not put your own "Making Your Home Sing Monday" Linky on your blog. As always, please
don't forget to link to this post
so that others can join the fun!
If you don't want to miss any blog posts, you can follow me or subscribe in
your reader
or by
email.
You can also find me
here
on
facebook
as well! I'd love to connect with you!