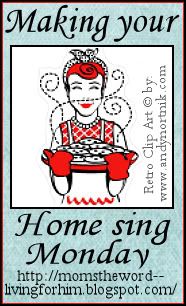 Welcome to the Making Your Home Sing Monday linky party! Every day you are doing something to make your house into a home for yourself and your family (if you have one).
My point with each Monday post is, what are YOU doing or going to do today to make your home sing? It can be an attitude or an action. So have fun, do some blog hopping and if you want, link up!
Topics can include marriage, parenting, encouraging women, organization, cleaning, saving money, our behavior and attitudes, homemaking, homeschooling, recipes....the opportunities are endless.
When the kids are little it's so easy to ignore daddy's role in the home. After all, it feels like he's rarely in it. He goes to work all day and is home for a few hours and then it's time to put the kids in bed.
Mom is very sure of herself. She knows her child's routine, she knows when they ate last so she knows if they're crying because they're hungry or not, she knows if they're grumpy because they didn't get a nap, she knows that they got their feelings hurt at recess today by their best friend.
Dad can be less sure of himself. He feels like he's been "out of the loop" for most of the day, and so he thinks that maybe mom really
DOES
know best so he finds it easy to defer to her.
Pretty soon, without even realizing it, mommy has pretty much taken over and marginalized daddy! And daddy may have even helped her!
When my children were younger, one of them asked my husband if he could do something and hubby said yes, he could. My then three or four year old son asked his daddy, "Did you ask mommy?" He was questioning daddy's ability to give permission for something. When my husband relayed this to me later I suddenly realized that, unknowingly, I (or we) had taken away their dad's authority.
My husband had got in the habit of saying "Go ask your mom" even if the request was something as simple as having a treat. If we were both together and they asked for something,
I
was the one who usually answered "yes" or "no." So as our children started getting older, they began to see ME as the ultimate authority in the house, even over daddy!
It was at this point that we realized that we needed to involve daddy in the decision making, no matter how trivial. So with my husband's permission,
after
he came home from work, I sent the children to him for all decisions.
I say "with his permission" because this was something that we agreed upon. I didn't just spring it on him. After he came home we would have a short chat and I would fill him in on who already had three cookies that day, who wasn't allowed to go to a friend's house and why, who was grumpy because he didn't get a nap, who needed an earlier bedtime, etc.
Then, when the kids asked for something, I sent them to their daddy to make the decision. I'm pretty sure that that first evening wore my husband out, lol!
But it taught my children that dad was more than just a provider of food on the table. It taught them that they could go and talk to their daddy about anything. It taught them that daddy could love and nurture and comfort just as well as mommy.
Pretty soon they not only went to their dad with "May I have...." questions, but they also went to him with their problems and their hurts. In the past they had come to me and talked to me about their fears or problems,
even
when dad was home. In this process they realized that they could talk to their dad too.
Remember, you're not just parenting for now. You're parenting for the future too.
The patterns, habits and relationships that you are building with your children
now
are relationships, habits and patterns that can carry into the future. You are building for your future.
Now obviously I didn't keep sending them to their daddy with any and all questions for the rest of their lives. But once dad's authority was established, it was a foundation of love and trust and strength for them. The kids realized that we were a team. We loved and supported them and prayed for them....together.
Here are some ways to build up your husband's authority and confidence as a father:
Eight Ways To Build Your Husband Up As A Father:
1. Involve him in the decision making.
Don't just make all the decisions (even the little ones) yourself. Send the kids to dad for permission. Let them see that
you
seek dad's wisdom as well. They will soon learn that they can take the little things AND the big things to dad too.
2. Respect your husband and see that your children do too
. Many t.v. shows make dad look like an idiot. Many wives will bash their husband to their friends AND to their own children. Speak to your husband respectfully and speak respectfully ABOUT him, especially to your children. You may have issues with your husband but don't involve your children in them. If mom doesn't respect dad, it's going to be hard to get the children to respect him.
3. Trust his judgment in parenting.
This was difficult for me. It was hard to let go. It was hard to let the boys do some things that my husband insisted that they
needed
to do or that was o.k to do. Like climb fences and trees and ride their bikes down the street when they were old enough, play football and get dirty in the mud, and have the dog sleep on their bed.
I'm not saying that there weren't times that I strongly objected to some things, because there were. Sometimes I persuaded hubby to come on over to the "right" side or the "safe" side, but many times he persuaded me.
They survived playing football and soccer and baseball with their friends, and they didn't fall off the roof helping dad with the Christmas lights, they didn't electrocute themselves, they didn't drown when the lifeguard wasn't looking at church camp in the 6th grade, they didn't cut their foot off when they were mowing the lawn, and they didn't crash the car on their first solo drive after they got their license. So daddy was right, they would be o.k.
4. Don't treat your husband like another child.
He's not. He's your husband, the father of your children, and your partner in parenting. You are on the same team. If we begin to treat our husbands with a lack of respect, and act like they
don't know what they're talking about
every time they open their mouths, pretty soon
they
won't open their mouths at all,
and we'll be on our own!
5. Pray for your husband.
Pray
with
him
for
your children and pray with your children for
him
. Let your children know when daddy has a need, let them know how they can pray for him. When my husband was out of work, we prayed
for
daddy and
with
daddy for a job. Sometimes I would say to them (and still do) "Dad's having a busy day today and he's tired, please pray for him."
6. Help build his "dad" muscles
. Encourage him to spend a date night with the children, one on one or all of them at once. Encourage him to take one of them out for a pop at Mcdonald's and then on to the hardware store or whatever errand dad has to do. Remind him that the kids just want to spend time with their dad, even if it's tickle time or wrestling time on the floor.
7.
Don't make him be the disciplinarian all the time
. Share the responsibility
!
Let him have fun with the kids and lighten up when you can. Sometimes we moms tend to be too serious and are all business about our routines and schedules. Dad can remind us that fun is important too.
One time my husband let the kids jump in the mud puddles and they came home from the store, feet soaking wet and jeans all muddy. They had huge smiles on their faces as they said "Mommy! Daddy let us jump in the mud puddles!" I could see my husband's apprehensive look. Was I going to rob them of their joy by being all practical and "clean mama" and get mad at him? I took a breath and smiled and said "Sometimes you just have to jump in the mud puddles."
8. Encourage him
. Just as you want him to encourage
you
in your parenting, encourage
him!
Let him know that he's doing a good job. Give him a tip or two when necessary but let him try it
HIS
way too.
Your way does not have to be
his
way. Dad's have their own ways of quieting a baby, calming a toddler, or talking with a teenager. Just because it's different from how you do it does not make it wrong.
Remember that Dad is not "babysitting" when you go out and leave him alone with the kids. He is parenting the children.
So let him parent!
These are YOUR children that you share together. Remember you are a team and make your home sing today!
What are

you

doing or going to do today to make your home sing?
Please go
here
for instructions and/or ideas and come back here to link up to join us today! Please do not put your own "Making Your Home Sing Monday" Linky on your blog. As always, please
don't forget to link to this post
so that others can join the fun!
If you don't want to miss any blog posts, you can follow me or subscribe in
your reader
or by
email.
You can also find me
here
on
facebook
as well! I'd love to connect with you!
I am linking up to these linky parties: