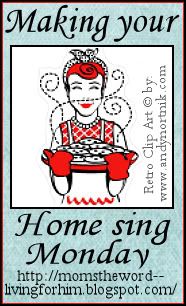 Welcome to the Making Your Home Sing Monday linky party! Every day you are doing something to make your house into a home for yourself and your family (if you have one).
My point with each Monday post is, what are YOU doing or going to do today to make your home sing? It can be an attitude or an action. So have fun, do some blog hopping and if you want, link up!
Topics can include marriage, parenting, encouraging women, organization, cleaning, saving money, our behavior and attitudes, homemaking, homeschooling, recipes....the opportunities are endless.
For many people, Monday is NOT a welcome day. It's not necessarily because they hate their job, it's just because they hate to see the weekend end.
For some stay-at-home moms with young children, Monday is not a welcome day either. For some it's because daddy goes back to work and mom's on her own with the kids again.
But what if we looked at Monday differently? What if we looked upon Monday as a fresh start? What if we looked upon Monday as an opportunity to make a change this week? What if we looked upon it as a chance to improve in an area we'd like to see change in?
What if Monday was our first step?
When the kids were little I loved having the extra freedom and help that the weekends brought because my husband was home.
But when Monday rolled around I also appreciated the fact that we were back in our routine again. Weekends can be a bit chaotic and nap times can be hard to adhere too, and clutter can pile up.
So even though hubby wasn't around during the day to help, I did enjoy being able to stay home and get the kids back on their regular routine, pull the house back together, and get back into my OWN routine.
So today is Monday. You have a chance to start over today. To do something different. To begin a new habit. To
stop
an old one. To make a change that will impact your life and your family's life in a positive way.
Today is Monday and it is waiting for you! What will you do with it? Don't waste it!
What are

you

doing or going to do today to make your home sing?
Please go
here
for instructions and/or ideas and come back here to link up to join us today! Please do not put your own "Making Your Home Sing Monday" Linky on your blog. As always, please
don't forget to link to this post
so that others can join the fun!
If you don't want to miss any blog posts, you can follow me or subscribe in
your reader
or by
email.
You can also find me
here
on
facebook
as well! I'd love to connect with you!
I am linking up to these linky parties: