I can pack the dishwasher better than my husband can. I can cram MANY more dishes in there. I can pack the dishwasher better than my
sons
can too.
I think it's genetic. Some "dishwasher" gene handed down to them from their father, and his father before him, and
his
father before him, and so on.
You won't find anything about the dishwasher gene in the history books. I think it's one of those best kept secrets that no one ever talks about. But it's a known fact.
I heard it from my mother's sister's doctor's nurse's brother's vet's receptionist's hair stylist. And everyone knows that a hair stylist sees and talks to lots of people throughout the day and so she knows everything that's going on everywhere. At least, mine does.
For some reason men, at least
MY
men, look at the racks and all the dividers and places in the dishwasher and think "Hmmmmm.....how can I possibly
waste
as much space as possible?"
See? It's a gift.
It's also the man-pack thing. Their motto is:
"He who loads the LEAST dishes wins."
Whereas a
woman's
motto is:
"No dish left behind."
Silverware, however, is a different story. The dishwasher gene tells them "By all means, let's load ALL the silverware in the
first
slot. Why go to all the trouble to bend a bit further and put the silverware in any of the
other
slots?"
It further whispers in their ear, "Seriously. Why bend at all when there's a perfectly good slot right in front just waiting for you. Yes, let's just stick
ALL
t
he silverware
in the first slot and be done with it."
Then there's the pan theory. The pan theory is when you put two
big pans
in the dishwasher that really don't fit, thus eliminating all other possibility of loading any
other
dishes in there. Thereby making the wife hand wash eight plates, six bowls, a couple of serving dishes and several glasses and cups, all so that TWO pans can fit.
The dishwasher gene says "Don't worry. It will all pan out in the end."
If you don't want to miss any blog posts, you can follow me or subscribe in
your reader
or by
email.
You can also find me
here
on
facebook
as well! I'd love to connect with you!
Be sure and come back
Monday
and link up to the
Making Your Home Sing Monday
linky party!
I am linking up to these linky parties: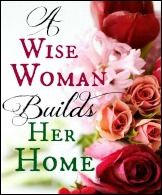 also We Are That Family, and
A Bowl Full Of Lemons