I have certain spots in my home that are clutter magnets. Clutter just appears there without even trying. Do you know what I mean?
It's frustrating. It's as if the clutter has developed feet and is
alive
or something. It couldn't possibly be MY fault or anyone else in the family's fault, right?
If you have hot spots or hot zones or clutter monsters, then you know what I'm talking about. Well, let's take care of those hot spots the Lazy Mom way!
LAZY MOM TIP:

Put Out The Hot Spots
Lazy Mom's motto:
Make it easy, make it fun and get it done!
(
"
Lazy
" and "
Mom
" are not
usually
two words you'd put together in a sentence, are they? But sometimes we moms get tired and we DO feel like being lazy. We've had a long day of doing stuff but there is
more
to be done! That's when I suggest we do things the Lazy Mom way!)
Click
here
for more
Lazy Mom
tips.
You can find
more
tips on
preventing hot spots
in several different rooms by clicking
here
.
Be sure and come back
Monday
and link up to the
Making Your Home Sing Monday
linky party!
I am linking up to these linky parties: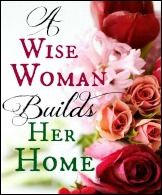 We Are That Family and
A Bowl Full Of Lemons