Welcome to
part one
of Conquering The Messies!
"
Alicia
"
left a comment asking me to do a post on, in her words, "how you conquered the messies." If you saw my house today, you would say that I haven't conquered anything completely. There are days where I get busy and I do not do my regular every day "
maintenance cleaning

,
" and things get, well….
messy!
However, my home is so much neater than it used to be. For the most part, I would not be embarrassed to have someone drop in today. Which is good, because it happens on a regular basis!
There will probably be a few posts on this subject, as I don't think I can cover it all in one. Let me just start by saying that I was raised in a very large home. My mom loved to clean and she did it all herself. Can you believe it? I think I helped her dust
once
or twice,
but we didn't have any regular chores or anything, at least none that I recall. I was supposed to clean my room but it was never totally clean. Fortunately, I rarely kept anything so I wasn't piling up the clutter.
When I moved out (with a roommate) I didn't know how to clean a bathroom, cook or do my own laundry. You would think I'd learn fast. Instead I
took my laundry home for my mom to do
(hey, it was
her
idea, LOL!). Anyway, cleaning was not "my thing." I had a roommate that was very neat and she insisted that I keep my stuff in my bedroom so our apartment stayed pretty neat. It wasn't too hard to keep my room neat either as I just didn't have that much stuff.
After my husband and I got married, I felt overwhelmed, at first, with all the things that I
didn't
know how to do. We were merging his things and my things, and I didn't know what to do with any of it. I really didn't know how to cook, clean, or do any "homemaking" stuff.
I was without a clue.
I didn't have a
cleaning routine
,
didn't even know what one was,
so I never did laundry until we were desperate. Unfortunately, that caused some discussions because, at the time, my husband had to wear clothes that I just couldn't manage to keep cleaned and ready for him to wear.
My sweet hubby gently offered to take the pressure off me by taking care of his own laundry, but I said no because I felt that
I
should do it,
only I rarely did
. I yelled at him once for going to work with a wrinkled shirt, because I felt it reflected badly on
me
. It seems so silly now, but at the time I felt very guilty for letting him go out like that. I felt even more guilty because my house was always a mess and I just couldn't seem to get a handle on it.
For years we lived in one big mess. Empty dishes in the living room, newspapers and clothes everywhere, sacks of groceries (with the canned goods
still
in them) on the kitchen counters
waiting to be unpacked
, grooming supplies all over the bathroom counters, more mess in the bedrooms. I was always embarrassed when people dropped in.
I
wanted
to have a clean home but
I didn't know how.
My idea of cleaning was to "crisis" clean: throw everything into the bedroom and close all the other doors. I was embarrassed once when a friend went into the bedroom to change her baby and saw my mess. I felt discouraged and I felt like a failure.
When I had free time, the
last
thing I wanted to do was clean. The huge mess just looked so overwhelming and seemed so hopeless, and I didn't have a clue where to start...
so I didn't
.
Tomorrow I will share the
first
thing I did that made a huge difference in the appearance of my home.
So come back
tomorrow
for part two of
Conquering The Messies (a four part series).
(Update: Please go
here
for part two,
here
for part three and
here
for part four)
There will be no new
Lazy Mom
in the series this week until my back recovers a bit. Sorry!
(Edit: this post is taken from the archives as I am on bed rest due to my bad back flaring up again. I am in a lot of pain so am borrowing from my archives this week! I DO have pain pills and will also be going to PT for several weeks which I hope will help!)
Now

please

join us
for the
Making Your Home Sing Monday
Linky Party!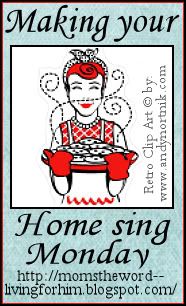 Welcome to the Making Your Home Sing Monday linky party! Every day you are doing something to make your house into a home for yourself and your family (if you have one).
My point with each Monday post is, what are YOU doing or going to do today to make your home sing? It can be an attitude or an action. So have fun, do some blog hopping and if you want, link up!
Topics can include marriage, parenting, encouraging women, organization, cleaning, saving money, our behavior and attitudes, homemaking, homeschooling, recipes....the opportunities are endless.
What are

you

doing or going to do today to make your home sing?
Please go
here
for instructions and/or ideas and come back here to link up to join us today! Please do not put your own "Making Your Home Sing Monday" Linky on your blog. As always, please
don't forget to link to this post
so that others can join the fun!
If you don't want to miss any blog posts, you can follow me or subscribe in
your reader
or by
email.
You can also find me
here
on facebook as well! I'd love to connect with you!
I am linking up to these linky parties: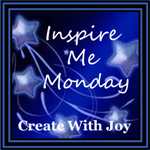 also
A Bowl Full of Lemons
and
We Are That Family
and
WholeHearted Home