I am starting the second week of my cold, or I am starting a

second

cold. I don't know if that's even possible but then, I've always tried to be a bit of an overachiever.

It was getting better and now I am back to clogged nasal passages and a cough. TMI, sorry.

My sweet hubby is working his way through the flu and he almost NEVER gets the flu. Thursday his fever was up to 103, then it went down to 102 and then Saturday it was 100. Sunday night it shot back up to 102. This is one nasty flu, people!

He wasn't able to preach on Sunday at all as he still had a fever and felt pretty tired. Wouldn't want to expose anyone, anyway.

Now I KNOW that you did not come on this blog to listen to me complain about my health. I'm also pretty sure that you don't want to know that I'm

down to one nostril here,

folks. By this evening, I suspect both will be all clogged up (

AGAIN

) and I will be breathing through my mouth and not sleeping much tonight. And whining.

I hab a code in by doze and I'mb all 'tuffed up. *cough*sneeze*hack*

I got my flu shot back in October so I'm hoping it will protect me from hubby's flu but I'm not going to count on it. I thought it was funny that my mother told me "I hope you're staying away from your hubby." It made me laugh, lol!

So, this week I will be taking care of my hubby and myself, and watching my mom who seems to be coming down with something as well. If I feel better and feel up to blogging I will. I have a couple of posts in my drafts folder that just need a little tweaking before I post them so I can always use those if I feel up to editing them!

Taking it easy is how I am going to make my home sing this week. Have a great week, y'all.

Now

join us

for the

Making Your Home Sing Monday

meme!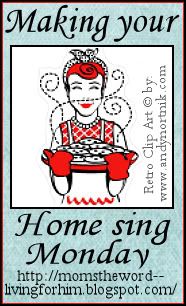 Welcome to the Making Your Home Sing Monday meme! Every day you are doing something to make your house into a home for yourself and your family (if you have one).
My point with each Monday post is, what are YOU doing or going to do today to make your home sing? It can be an attitude or an action. So have fun, do some blog hopping and if you want, link up!
Topics can include marriage, parenting, encouraging women, organization, cleaning, saving money, our behavior and attitudes, homemaking, homeschooling, recipes....the opportunities are endless.
What are

you

doing or going to do today to make your home sing?
Please go
here
for instructions and/or ideas and come back here to link up to join us today! Please do not put your own "Making Your Home Sing Monday" Linky on your blog. As always, please
don't forget to link to this post
so that others can join the fun!
If you don't want to miss any blog posts, you can follow me or subscribe in
your reader
or by
email.
You can also find me
here
on facebook as well! I'd love to connect with you!