Well, I'm back! No "official" post today, sorry. Not feeling quite up to 100% but definitely on the mend. Colds always affect my asthma and I had a fever with this one, so maybe I got my husband's flu instead of a cold. Not quite sure. I got a flu shot back in October so who knows what I had. But my hubby and I no longer have fevers so we're happy.

My mom actually tested positive for both the flu AND pneumonia. She is where I get my overachiever genes from. She wasn't happy having just one illness, she had to have two.

However, she is doing better and on some serious antibiotics plus some flu medicine and may actually get out of the hospital tomorrow (which will be today when you read this).

Apparently it takes about two weeks to get over this thing energy-wise, so I suspect I will still be tired this week, but I am breathing much better. I like breathing. It's fun.

So I am putting the linky up again. I was all excited to see you all linking up last week. Thanks so much! It's always fun to see what everyone is sharing.

Be sure and visit one another's links!

Now

join us

for the

Making Your Home Sing Monday

meme!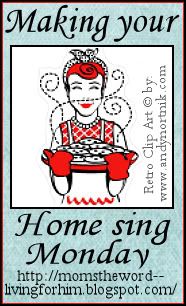 Welcome to the Making Your Home Sing Monday meme! Every day you are doing something to make your house into a home for yourself and your family (if you have one).
My point with each Monday post is, what are YOU doing or going to do today to make your home sing? It can be an attitude or an action. So have fun, do some blog hopping and if you want, link up!
Topics can include marriage, parenting, encouraging women, organization, cleaning, saving money, our behavior and attitudes, homemaking, homeschooling, recipes....the opportunities are endless.
What are

you

doing or going to do today to make your home sing?
Please go
here
for instructions and/or ideas and come back here to link up to join us today! Please do not put your own "Making Your Home Sing Monday" Linky on your blog. As always, please
don't forget to link to this post
so that others can join the fun!
If you don't want to miss any blog posts, you can follow me or subscribe in
your reader
or by
email.
You can also find me
here
on facebook as well! I'd love to connect with you!