In case you're wondering,
my bathroom counter
is STILL clean today.
So are my kitchen counters.
When you think about it, it all comes down to habit.
Habit is the workhorse of your cleaning routine.

You can spend hours getting your home sparkling clean and neat and orderly. But if you don't establish habits to

KEEP

it clean, it won't stay that way.

Not everyone wants an immaculate home. Not everyone wants to be able to perform open heart surgery on any floor of their home at any given time.

Except

me

. I

definitely

want to be able to do that.

We all have habits and these habits are making or breaking us. They are moving us

towards

our goals or

away

from our goals. They are helping or hindering us.

What habits do you have when you wake up in the morning? Do you make your bed? Check your email? Make your coffee? Let the dogs out?

Maybe you have a habit of tossing your pajamas on the bed, leaving your bed unmade, leaving your makeup all over the bathroom counter, dishes in the sink, and a huge mess behind you as you run out the door or begin your day at home.

What about when you come home after being gone much of the day? Do you leave a trail of shoes, clothing, newspapers, mail, and coffee mugs behind you? Do you have a set place for your keys and your purse or will you have to hunt for them tomorrow morning? Do you leave tiny little messes everywhere you go?

I'm not saying that this is a

bad

thing because some people say that they really don't mind the mess in their homes.

However, if

YOU

do, then your habits are hurting you.

It's a lot harder to function in a mess than it is when things are orderly. Whether it's trying to cook a meal in a messy kitchen, trying to find your shoes in a messy closet, trying to find the bills in a mound of paperwork, or having to iron your favorite shirt because it got all wrinkled because you didn't hang it up the last time you wore it.

If you don't like coming home to a messy kitchen, going to bed at night in a messy room, find yourself getting frustrated because you can't find any clean counter space in your kitchen or bathroom, then you need to take a closer look at your habits.

So

take a good look

at your habits today and ask yourself, are they

helping

you or

hurting

you? Establish some

good habits

,

kick the bad habits to the curb and make your home sing this week!

Now

join us

for the

Making Your Home Sing Monday

meme!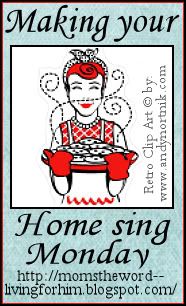 Welcome to the Making Your Home Sing Monday meme! Every day you are doing something to make your house into a home for yourself and your family (if you have one).
My point with each Monday post is, what are YOU doing or going to do today to make your home sing? It can be an attitude or an action. So have fun, do some blog hopping and if you want, link up!
Topics can include marriage, parenting, encouraging women, organization, cleaning, saving money, our behavior and attitudes, homemaking, homeschooling, recipes....the opportunities are endless.
What are

you

doing or going to do today to make your home sing?
Please go
here
for instructions and/or ideas and come back here to link up to join us today! Please do not put your own "Making Your Home Sing Monday" Linky on your blog. As always, please
don't forget to link to this post
so that others can join the fun!
If you don't want to miss any blog posts, you can follow me or subscribe in
your reader
or by
email.
You can also find me
here
on facebook as well! I'd love to connect with you!