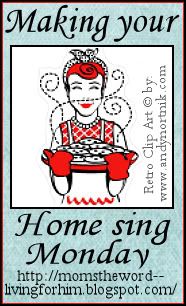 Welcome to the Making Your Home Sing Monday meme! Every day you are doing something to make your house into a home for yourself and your family (if you have one).
My point with each Monday post is, what are YOU doing or going to do today to make your home sing? It can be an attitude or an action. So have fun, do some blog hopping and if you want, link up!
Topics can include marriage, parenting, encouraging women, organization, cleaning, saving money, our behavior and attitudes, homemaking, homeschooling, recipes....the opportunities are endless.
What have you been putting off lately? What do you KNOW needs to be done, and yet you're
not
doing it?
How much time are you spending each day thinking about what you're not doing?
How much stress and energy are you expending on them by thinking about them constantly and maybe even feeling guilty for not doing them?
What are your reasons for not doing each one? Is it just an unpleasant task? Are you not sure where to start? Is it just plain difficult? Is it just too time consuming?
Is it outside your comfort zone? Is it too emotionally painful to contemplate? Are you waiting on someone else to do their part? Is it boring? Is it so easy that you know it will only take a few minutes to do so you just keep putting it off?
What's stopping you from doing them and getting it
OVER
with?
Think of the relief it will be to finally be free! Imagine not having to start the morning with a list of previously avoided tasks hanging over your head.
When you have something that you need to do, and you don't do it, all day long you have to continually make the decision NOT to do it. Over and over. All day long.
You decide not to decide. You choose not to choose. And you make the move
NOT
to make the move. You are making the same "not now" decision over and over. And it's costing you. Decide to
decide!
I encourage you to find one thing that you are procrastinating on
each day
and just DO it and
make your home sing
this week!
What are

you

doing or going to do today to make your home sing?
Please go
here
for instructions and/or ideas and come back here to link up to join us today! Please do not put your own "Making Your Home Sing Monday" Linky on your blog. As always, please
don't forget to link to this post
so that others can join the fun!
If you don't want to miss any blog posts, you can follow me or subscribe in
your reader
or by
email.
You can also find me
here
on facebook as well! I'd love to connect with you!