This last week we went to Disneyland. Late nights and early mornings partying with Mickey and Minnie have left me tired.
I know, I know, you're saying "My heart bleeds for you....."
Having fun is hard work!
We flew home today and I am having the hardest time staying awake tonight. You're probably thinking "Would you like a little cheese with that whine?"
So the best way for me to make my home sing this week is to start by getting a good night's sleep tonight. Then I will have to unpack my suitcase tomorrow.
I am curious......what's the longest amount of time that
you
have waited to unpack your suitcase? Do you unpack it right away? Do you wait to unpack it until you need it again? Just curious! ;)
So no "real" MYHSM post to go with the link up today. Just me going to bed and being nosey about your suitcase habits. But I will leave you with this picture.....
Apparently I did not get the memo that we were all wearing a graphic t-shirt that day......rude.
Now join us
for the
Making Your Home Sing Monday
meme!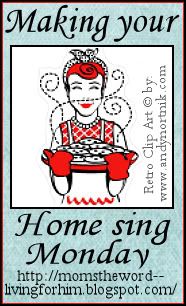 Welcome to the Making Your Home Sing Monday meme! Every day you are doing something to make your house into a home for yourself and your family (if you have one).
My point with each Monday post is, what are you doing or going to do today to make your home sing? It can be an attitude or an action. So have fun, do some blog hopping and if you want, link up!
Topics can include marriage, parenting, encouraging our husband or children or others, organization, cleaning, saving money, our behavior and attitudes, homemaking, homeschooling, recipes....the opportunities are endless.
What are

you

doing or going to do today to make your home sing?
Please go
here
for instructions and/or ideas and come back here to link up to join us today! Please do not put your own "Making Your Home Sing Monday" Linky on your blog. As always, please
don't forget to link to this post
so that others can join the fun!
If you don't want to miss any blog posts, you can follow me or subscribe in
your reader
or by
email.
You can also find me
here
on facebook as well! I'd love to connect with you!