Here are some more
Lazy Mom
tips.
This time we're in the bathroom! Come clean your bathroom the "Lazy Mom" way.
I know that we moms aren't lazy. But sometimes we just need to do a quick tidy in one of the
busiest
rooms of the house.
The bathroom.
Maybe company is coming over, or we just need to make it presentable for ourselves because we just can't stand it another minute.
But we don't have enough time to do it all at once so we do a little, and spread the
rest
of the work load out a bit throughout the day, as we have time.
LAZY MOM TIP:

Cleaning Up The Bathroom
Lazy Mom's motto:
Make it easy, make it fun and get it done!
(
"
Lazy
" and "
Mom
" are not
usually
two words you'd put together in a sentence, are they? But sometimes we moms get tired and we DO feel like being lazy. We've had a long day of doing stuff but there is
more
to be done! That's when I suggest we do things the Lazy Mom way!)
Click
here
for more
Lazy Mom
tips.
(Edit: I do not recommend baby wipes as a regular rule because they aren't able to sterilize and clean as effectively as a bathroom cleaner. But we are cleaning the "lazy mom" way today, so I figure one time won't hurt. Sometimes I do a quick clean with baby wipes (because otherwise I'd have to put on gloves for a bathroom cleaner wipe and that takes more time and is not the "lazy mom" way), and then later in the week I use the regular bathroom cleaner to sterilize.)
If you don't want to miss any blog posts, you can follow me or subscribe in
your reader
or by
email.
You can also find me
here
on facebook as well! I'd love to connect with you!
Be sure and come back Monday and link up to the
Making Your Home Sing Monday
meme!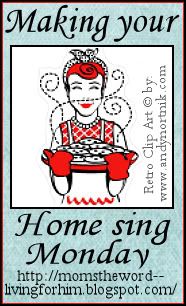 I am participating in these linky parties today:






Time-Warp Wife
A Bowl Full of Lemons

We Are That Family




Women Living Well
WholeHearted Home
Raising Homemakers