So many times we try to change
from the outside
IN.
We try to change our behavior and our actions
first
, but we are trying to do it in our own strength, and we aren't changing in our hearts. So we struggle and fail and get discouraged.
But we're looking at it all wrong. We are trying to effect a change in our actions but our hearts are what drives our behavior. And our hearts are failing us. We aren't changing as fast as we want to. Why?
I think it's because we are so focused on our behavior and not our hearts.
We are so focused on getting our actions right, on seeing the change in our own lives that we want changed. On seeing the fruit that we want to see in our own lives.
So we focus on an
action
change when what we need is a
heart
change.
We forget that we can't change our actions without changing our hearts first.
We try, and try, and
try
to be patient. We try, and try and try not to lose our tempers. We try and try and try to be unselfish.
We keep trying and we just don't see the progress that we want. We fail. We get frustrated. We hurt. Why won't it happen overnight? What are we doing wrong?
We forget to take it to Jesus and let
Him
change us and instead try to change it ourselves.
We forget Who is responsible for our transformation.
We forget that it's not something we do but something we
become
. It's a
process
.
We forget that God's Word transforms. God's Word changes. God's Word reveals.
We forget that
we
are trying to change our actions but
He
is seeking to change our hearts.
When our hearts change, our actions will change.
God changes us from the inside OUT. He starts with our heart, and then our actions, attitude and behavior reflect the change that He is bringing about in our hearts.
We have it all wrong. We have it backward. We are trying to start at the end instead of the beginning. Fortunately God never gets it wrong!
Now join us
for the
Making Your Home Sing Monday
meme!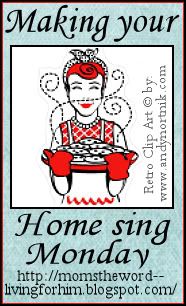 Welcome to the Making Your Home Sing Monday meme! Every day you are doing something to make your house into a home for yourself and your family (if you have one).
My point with each Monday post is, what are you doing or going to do today to make your home sing? It can be an attitude or an action. So have fun, do some blog hopping and if you want, link up!
Topics can include marriage, parenting, encouraging our husband or children or others, organization, cleaning, saving money, our behavior and attitudes, homemaking, homeschooling, recipes....the opportunities are endless.
What are

you

doing or going to do today to make your home sing?
Please go
here
for instructions and/or ideas and come back here to link up to join us today! Please do not put your own "Making Your Home Sing Monday" Linky on your blog. As always, please
don't forget to link to this post
so that others can join the fun!
If you don't want to miss any blog posts, you can follow me or subscribe in
your reader
or by
email.
You can also find me
here
on facebook as well! I'd love to connect with you!
Linking up here today
: