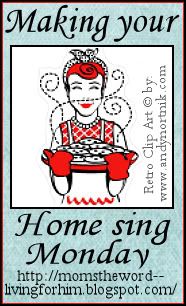 Welcome to the Making Your Home Sing Monday meme! Every day you are doing something to make your house into a home for yourself and your family (if you have one). My point with each Monday post is, what are you doing or going to do today to make your home sing?
It can be an attitude or an action. Motivation, our attitude, baking, encouraging our husband or children (if we have either one), organization, cleaning, saving money....the opportunities are endless

.


Wow, I don't think I managed to visit or comment on any blogs or links this past week. Facebook was about all I managed and even that wasn't much. I just haven't been on the computer much lately.
Who can be inside when there's sunshine outside???? I went walking a few times down by the water with a friend, walked in my own neighborhood, sat out on the deck with a good book, etc.
The weather has not been very hot, oddly enough, but it's been warm enough to be comfortable but not a heat wave like some of y'all have been experiencing.
I tried to upload a cute video I found about something but for some reason it wouldn't upload. So now I don't have a post and I guess I'll just get right to the meme!
What are

you

doing or going to do today to make your home sing?
Please go
here
for instructions and/or ideas and come back here to link up to join us today! Please do not put your own "Making Your Home Sing Monday" Linky on your blog. As always, please
don't forget to link to this post
. Also, please don't forgot to leave me a comment!