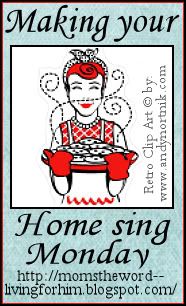 Welcome to the Making Your Home Sing Monday meme! Every day you are doing something to make your house into a home for yourself and your family (if you have one). My point with each Monday post is, what are you doing or going to do today to make your home sing?
It can be an attitude or an action. Motivation, our attitude, baking, encouraging our husband or children (if we have either one), organization, cleaning, saving money....the opportunities are endless

.
Yesterday one of my sisters and I helped my mom organize her closet and sort through many of her boxes of "stuff," helping her get some things ready to sell or donate to family or the thrift store.
I shredded papers for two hours, and I still have some left to do. Two hours! Some of the things I shredded were tax documents and papers dating back to the 1970's, and I'm not even kidding.
I had lots of time to think while I was shredding paper. Lots. I thought about how thankful I was for a shredder. I thought about how I really should be sitting down and shredding instead of standing up. I thought about how much my back was hurting. I thought about the fact that I now had a headache. I thought about the fact that I was hoping that my quads were getting a workout from the occasional squatting.
But mostly, I thought about the "stuff" that OUR children will be left with someday. I thought about the papers and books and decorative things that we have acquired, and how my children will have to dispose of them after we're gone.
I thought about all the clutter and "stuff" that I have acquired over the years. I thought about all the magazines that I have managed to pile up (not much, just a basket but even so, it's a pile that I'm pretty sure my sons won't be interested in). I keep meaning to sort through them but am waaaaay behind.
As I held some of my mom's treasures in my hands, I realized how dear they were to her. I also realized that not all of them were to MY taste (obviously).
I also realized that my children most likely are not going to love all the little decorative knicknacks that I love. Some they might appreciate for sentimental reasons, just as I have some of my mother's things that I love because of the memories they bring. But not everything.
They aren't going to appreciate many of the books that I appreciate. They're going to get a backache from standing at the shredder for hours upon hours shredding tax documents because I never got around to it after the time for saving tax documents had passed.
They are going to wonder why I have maternity clothes that I couldn't part with (yes, I still have one or two shirts that I saved although the bulk of them are gone). They aren't going to want to have to deal with my small shoe collection that seems to be growing (how does that happen?????).
They are going to be having to deal with their grief at my loss, and having to struggle with perhaps feeling guilty for parting with something that belonged to me, or possibly even feeling resentful that I placed such a burden on them in the first place. I want to make things easier on my children during that time, not harder.
If your children or husband or family members walked into your garage, your "junk" room or your bedroom closet and had to face disposing with everything, how do you think they'd feel? If they had to dispose of the contents of your desk, filing cabinet, pantry, linen closet or bathroom cupboards, would they feel overwhelmed?
I remember helping my mom sort through some of my dad's stuff right after he died. I remember specifically that I did NOT feel resentful in any way, and so that gives me hope that my children won't resent all the "stuff" I've left them either. But I do remember the stress my mom felt as she tried to decide what to part with and what to keep.
I also remember all the work and time it has taken over the years for her to begin to let go of a lifetime of memories as she has worked at emptying her storage unit. Can you imagine how difficult that would be for her? And all the work my brothers and sisters and I have done to help her clear out the unit and help her make decisions when she asks or gratefully accept things that she wants to give to someone, and the endless trips to the thrift store.
I know that I have found some comfort in seeing my dad's things. Yesterday I saw his name signed on a receipt, and it was so nice to see his signature again.
But I also know that my kids are going to laugh at some of the things
I've
saved, and shake their heads in disbelief at some of the other things. I also know that I love them, and because of that, I am going to try and get that garage cleaned out........not to mention taking a good look at some of the closets, drawers, and
seriously
look at my home files.
But maybe I'll save a receipt with my signature on it. Just in case.
So what are you up to this week?
What are

you

doing or going to do today to make your home sing?
Please go
here
for instructions and/or ideas and come back here to link up to join us today! Please do not put your own "Making Your Home Sing Monday" Linky on your blog. As always, please
don't forget to link to this post
. Also, please don't forgot to leave me a comment!
If you want to use your

blog header

or

profile picture

, use the "from the web" button on your right (after you click to link up). If you want to use a

picture

from your computer use the button on your left (unless the picture is on your blog)
.
Please let me know if you have any problems with linking up.