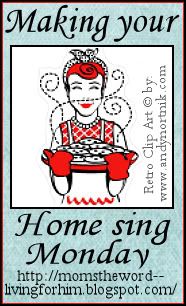 Welcome to the Making Your Home Sing Monday meme! Every day you are doing something to make your house into a home for yourself and your family (if you have one). My point with each Monday post is, what are you doing or going to do today to make your home sing?
It can be an attitude or an action. Motivation, our attitude, baking, encouraging our husband or children (if we have either one), organization, cleaning, saving money....the opportunities are endless

.
Recently I was talking to a stay at home mom and she mentioned that her husband was mad at her because the house was a mess and had been a mess for awhile and he wanted it cleaned up. He was tired of coming home to a messy house.
The mom admitted that there wasn't any reason why she
couldn't
clean it up. She didn't work and her children were grown. She had lots of free time and plenty of time to clean and make dinner. What she didn't have was discipline or time management. Facebook and t.v. were calling her name. The phone was nearby and there were lots of shops around.
I was also listening to another stay at home with a little baby talk about her day. She complained that she can't get the house clean because baby takes up too much time. Yet she spends several hours in the afternoon watching t.v. or playing her games on facebook before, during and after baby naps. She also stays up late playing and wonders why she's so tired.
Sometimes moms are desperate for some "me" time. Sometimes we're so desperate for it that we let it get out of control.
If you are a stay at home mom, do you work hard while your husband is at work? Do you consider that
your
job? Or do you consider it a vacation and an opportunity to play until hubby comes home and you start your "serious" work so you're not caught slacking.
Do you find yourself "playing" a lot during the day so that you have to spend your evenings doing household tasks to make up for it because you're behind, thereby depriving your husband of your presence and your children of "family" time because mommy is too busy?
Or maybe you consider parenting during the day your job, but the housekeeping duties are something you share with your husband at night. That very well may be true, but not everyone has that understanding. Are you managing your time well during the day?
My children were young once and I know that they can take up a huge amount of time, they can be a constant source of disruption and a little chaos thrown in for good measure. I also know that they are young only for a little while, and we want to love on them and cherish those moments.
But I also know that kids take naps, have play-dates at friend's houses, or play contently on their own sometimes. I also know that kids get older and require less supervision.
So, let me ask you again? Do you play "homemaking" during the day while hubby is at work, or are you serious in your commitment to your task. Do you find yourself working more diligently at night when he's there because you feel guilty about how you managed your time during the day or because there's someone watching you?
My husband works hard at his job, but I know that there have been times when I haven't worked hard at mine that day. I just slacked off on my homemaking duties because I
could
. I didn't work as hard at my job as he did at
his
job. I took longer "breaks" and more of them. Because I could.
There's no one here to watch me or keep score or grade me on my performance and diligence. I can't always goof off because I have places I have to be and people I have to care for, but I do have moments where I goof off when I
should
be meal planning or doing the laundry or vacuuming or putting away the clutter that piles up.
If our husbands work hard at their jobs, shouldn't we work hard at ours?
I'm thinking specifically of the gal who has lots of time on her hands. Are you putting it to good use, or are you wasting more than your share of it on things that don't really matter in the long run. What are you investing your time in?????
You are a "professional" homemaker. Take joy and pride in your ability to make a home for yourself and/or your family. Are you like the little child who is "playing house," or are you making a home? Adjust your priorities, work hard when you need to, play when you need to recharge, love those kids, but keep a balance in your life and make your home sing this week!
So what are you up to this week?
What are

you

doing or going to do today to make your home sing?
Please go
here
for instructions and/or ideas and come back here to link up to join us today! Please do not put your own "Making Your Home Sing Monday" Linky on your blog. As always, please
don't forget to link to this post
. Also, please don't forgot to leave me a comment!
If you want to use your

blog header

or

profile picture

, use the "from the web" button on your right (after you click to link up). If you want to use a

picture

from your computer use the button on your left (unless the picture is on your blog)
.
Please let me know if you have any problems with linking up.