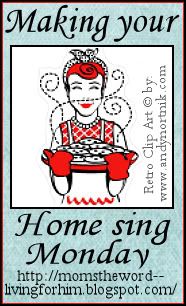 Welcome to the Making Your Home Sing Monday meme! Every day you are doing something to make your house into a home for yourself and your family (if you have one). My point with each Monday post is, what are you doing or going to do today to make your home sing?
It can be an attitude or an action. Motivation, our attitude, baking, encouraging our husband or children (if we have either one), organization, cleaning, saving money....the opportunities are endless

.
I was working on my post for this meme and a friend called and asked if I wanted to go out for ice cream. Well, you know I am all about setting priorities and finishing what I started.
So, of course, I said yes!
I mean, seriously, how can you say no to ice cream????? Not to mention hanging with a good friend. I do hate the fact that I have to get dressed, though.
Yes, it's nearly 6:00 p.m. my time and I am wearing a t-shirt and pajama bottoms. Tinker Bell pajama bottoms. Yes, I DO think that you needed to know that.
So, for now I am making my home sing by leaving it and spending some time with a friend! As for the rest of the week, I am certain I can find *something* to do.......
What are

you

doing or going to do today to make your home sing?
Please go
here
for instructions and/or ideas and come back here to link up to join us today! Please do not put your own "Making Your Home Sing Monday" Linky on your blog. As always, please
don't forget to link to this post
. Also, please don't forgot to leave me a comment!
If you want to use your

blog header

or

profile picture

, use the "from the web" button on your right (after you click to link up). If you want to use a

picture

from your computer use the button on your left (unless the picture is on your blog)
.
Please let me know if you have any problems with linking up.