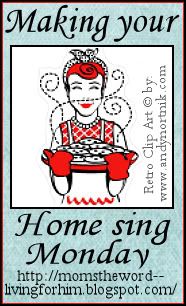 Welcome to the Making Your Home Sing Monday meme! Every day you are doing something to make your house into a home for yourself and your family (if you have one). My point with each Monday post is, what are you doing or going to do today to make your home sing?
It can be an attitude or an action. Motivation, our attitude, baking, encouraging our husband or children (if we have either one), organization, cleaning, saving money....the opportunities are endless

.
I am fond of chocolate. And desserts. And cookies. Did I mention I'm fond of chocolate?
I try to faithfully exercise five days a week. "Try" being the operative word here. Did I mention I'm fond of chocolate?
My children are getting older, and apparently I am too. Funny how that works. The older I get, the more I need the exercise.
Being around little kids can really show you how out of shape you are. They run, jump, hop, skip, bend, roll, and do just about every conceivable exercise move you can think of, and they do it three times as fast. It's only when they start to get a bit older that they discover the wonderful world of t.v. and computers, etc., and often have to be forced or persuaded to "go outside and play."
My elderly mom walks very slow. When we go outside she holds onto my arm and uses her cane. She would love to be able to have the range of motion that I have. She'd love to be able to walk in the snow again and make snow angels, or run outside in the sunshine, or walk in the rain without being afraid of falling.
When we have a snow storm she stares longingly out the window, wishing she could go out and play in it. During a wind storm she wants to go outside and just feel the wind beating against her body as she strains to run against it. She wants to go outside and splash in puddles and enjoy the rain storm.
Some day I will be her age, and I will fondly recall the days when I could run and my legs would carry me, walk and my body and balance would not fail me, bend and my knees would get back up again, reach and my tiptoes would hold me and I wouldn't fall, lift and my hands and arms could carry the load.
As I age, I am hoping to keep my body as healthy and flexible as I can with regular exercise. I am hoping that I will continue to try to eat healthy ("try" being the operative word here, and did I mention I like chocolate?). As I get old, I am hoping that I won't
"grow"
old.
My mom's body may be aging, but her mind isn't. She is curious and interested in the world around here, and she's not afraid of technology (unlike her daughter, lol!). She even has a facebook page and has a wonderful time staying in touch with friends and family members that are far away.
Are you enjoying your youth? You may feel "old" to your kids (if you have any) or even to yourself sometimes, but you are young compared to some people, such as my mom. Are you enjoying the things that you can do? Are you enjoying the health that you have?
Maybe your health isn't what it once was, but are you thankful for the health that you
do
have? Are you making the most of it? Maybe you have your health and feel great, are you enjoying it or just taking it for granted as we tend to do sometimes?
When's the last time you ran to the mailbox, just because you could? When's the last time you pushed your shopping cart as fast as you can and jumped on for a ride? When's the last time you put on some fun music and danced around the room until you collapsed in a fit of giggles? When's the last time you appreciated this wonderful gift of motion that God gave you?
Don't grow old before your time. Don't let your body grow old before its time.
Move your body this week. Walk, run, hop, skip, jump, dance. MOVE! Relish the beauty of motion, and what your body is capable of.
Don't just settle for sitting at the computer or in front of the t.v., saying there will be time later. Don't waste what God has given you NOW in favor of later.
Whatever you can do, do it. Maybe you can only walk a few steps. Do it. Maybe you can only jump rope 10 seconds. Do it. Just get out there and MOVE IT, MOVE IT!!!!!!
What are

you

doing or going to do today to make your home sing?
Please go
here
for instructions and/or ideas and come back here to link up to join us today! Please do not put your own "Making Your Home Sing Monday" Linky on your blog. As always, please
don't forget to link to this post
. Also, please don't forgot to leave me a comment!
If you want to use your

blog header

or

profile picture

, use the "from the web" button on your right (after you click to link up). If you want to use a

picture

from your computer use the button on your left (unless the picture is on your blog)
.
Please let me know if you have any problems with linking up.