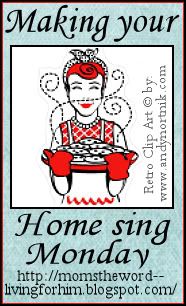 Welcome to the Making Your Home Sing Monday meme! Every day you are doing something to make your house into a home for yourself and your family (if you have one). My point with each Monday post is, what are you doing or going to do today to make your home sing?
It can be an attitude or an action. Motivation, our attitude, baking, encouraging our husband or children (if we have either one), organization, cleaning, saving money....the opportunities are endless

.
I have a huge confession to make. Huge.
My Christmas decorations aren't put away yet. Oh, they're
down
. Mostly down. O.k., somewhat down.........
The tree is gone and most of the house decorations are shoved in a corner, waiting for me to put them in their boxes and be done with them. But there are a few of them that I haven't taken down yet.
I usually take them down the day after New Years. But I hurt my back (again) right before Christmas and so when New Years rolled around I was still waiting for it to feel better.
Now it's feeling much better but I'm not feelin' the desire to tackle that project. And besides, Christmas is 330 days away, so what's the hurry?
It's not just Christmas exploding in my house. It's the Christmas boxes, and the thrift store boxes, and the unfolded laundry, and the
folded
laundry, and the unread magazines piling up, and the......and the.........
Frankly, I'm getting tired of looking around and seeing a mess. I'm getting tired of being afraid of having someone ring my doorbell. I'm getting tired of living in fear that I will have to invite someone in.
Every time that doorbell rings I cringe. I don't like cringing. I like having my house neat so that I don't have to live in fear if the doorbell rings.
Are you living in fear of the doorbell? That doorbell isn't the boss of you, is it? Facebook isn't the boss of you, is it? Pinterest isn't the boss of you, is it? If something is stealing your time and keeping you from doing the stuff you know you need to be doing, take back control and make your home sing this week!
What are

you

doing or going to do today to make your home sing?
Please go
here
for instructions and/or ideas and come back here to link up to join us today! Please do not put your own "Making Your Home Sing Monday" Linky on your blog. As always, please
don't forget to link to this post
. Also, please don't forgot to leave me a comment!
If you want to use your

blog header

or

profile picture

, use the "from the web" button on your right (after you click to link up). If you want to use a

picture

from your computer use the button on your left (unless the picture is on your blog)
.
Please let me know if you have any problems with linking up.