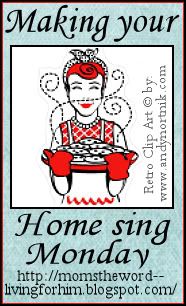 Welcome to the Making Your Home Sing Monday meme! Every day you are doing something to make your house into a home for yourself and your family (if you have one). My point with each Monday post is, what are you doing or going to do today to make your home sing?
It can be an attitude or an action. Motivation, our attitude, baking, encouraging our husband or children (if we have either one), organization, cleaning, saving money....the opportunities are endless

.
Thank you all for linking up last week. I hurt my back again and by the time last Monday rolled around I was in a lot of pain, so I didn't get around to reading your entries. I'm sorry about that. It's hard for me to sit (or stand) at the computer very long so I've been lying around and doing lots of reading!
I did manage to get one post up later in the week because most of it was already done
before
I hurt my back. I've been to the doctor and have pain pills though so that's a blessing!
One week until Christmas. Can you believe it? Just doesn't seem real. This year went fast, didn't it?
It seems like people aren't putting up outdoor Christmas lights like they used to. I imagine it may be due to the economy, a time crunch, or maybe the "old" people moved and new people moved into the neighborhood.
It just seems like there aren't as many on display as there used to be. Maybe I'm not driving around at night as much this year. Who knows?
We haven't put our outdoor lights up in years. But our tree and indoor lights are up! I love this time of year. I love the decorations, the tree, the holiday music, the hope that maybe, just maybe, it might be a white Christmas, and buying gifts for those I love.
Still, that's not what Christmas is really all about. It's about one special GIFT that was given to us in the form of a newborn baby. A Baby who came to do something that no one else could do: reconcile us to an almighty God.
"For God so loved the world that he gave his one and only Son, that whoever believes in him shall not perish but have eternal life." (John 3:16)
Salvation is God's gift to us, through Jesus Christ. We don't deserve it and we can't earn it. It's free.
"For it is by grace you have been saved, through faith—and this is not from yourselves, it is the gift of God— not by works, so that no one can boast." (Ephesians 2: 8 & 9)
This faith is what makes my heart and my home sing this week and every week.
I'm putting this meme up today, and then I'm taking a couple of weeks off since next Sunday is Christmas. Have a very merry Christmas and a Happy New Year and I'll see you in a couple of weeks!
What are

you

doing or going to do today to make your home sing?
Please go
here
for instructions and/or ideas and come back here to link up to join us today! Please do not put your own "Making Your Home Sing Monday" Linky on your blog. As always, please
don't forget to link to this post
. Also, please don't forgot to leave me a comment!
If you want to use your

blog header

or

profile picture

, use the "from the web" button on your right (after you click to link up). If you want to use a

picture

from your computer use the button on your left (unless the picture is on your blog)
.
Please let me know if you have any problems with linking up.