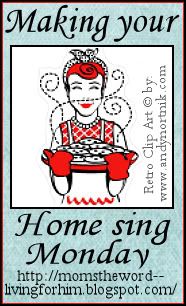 Welcome to the Making Your Home Sing Monday meme! Every day you are doing something to make your house into a home for yourself and your family (if you have one). My point with each Monday post is, what are you doing or going to do today to make your home sing?
It can be an attitude or an action. Motivation, our attitude, baking, encouraging our husband or children (if we have either one), organization, cleaning, saving money....the opportunities are endless

.
I hope y'all had a lovely Thanksgiving! My oldest boy was on his college break and so he was home for a week. So nice to have both my "babies" in the nest again! In fact, that's the reason why I haven't read all your meme entries from last week. But I'm hoping to catch up soon!
Yesterday it looked like Christmas threw up all over my house. The Fall decorations were on the dining room table, waiting to be put away. Some of the Christmas decorations were out, waiting for someone to put them somewhere, and some were still in their boxes.
My 22 year old was stringing lights and garland all over the railing and his 18 year old brother was trying to put up some decorations and cram in some food all at the same time because isn't that what 18 year old men do?
Their dad was trying to keep the four dogs at bay and prevent them from eating the Christmas tree decorations. We did have
one
casualty though.
Rosie, on the left, decided to let her brother Qui Que (pronounced Key-Kay) on the right take the fall for it. Two little "angels" trying to look all innocent and "Who, me?" One headless and body-less angel with a story to tell.
One displaced beagle who is wondering why that big tree-interloper took "his" spot in the corner.
One poodle willing to take over the beagle's domain and committed to defending it from all challengers.
Two sweet young men helping to decorate the tree and one husband hiding behind it. These people make my heart happy.
Next weekend we have a bunch of people coming over for the Progressive Dinner. The college-age group is coming over for salad and I'm thinking they'd probably like to be able to sit down. So this week I will be making my home sing by putting away the Christmas boxes and the last of the items left out.
I also have a huge decluttering project in the basement, as my mom is sorting through her boxes of stuff. I will help her with that as well.
By getting my home into shape I will have a head-start on the holidays. What can YOU do to give
yourself
a head-start this holiday season? Think of one thing you can do and join me in making your home sing this week.
What are

you

doing or going to do today to make your home sing?
Please go
here
for instructions and/or ideas and come back here to link up to join us today! Please do not put your own "Making Your Home Sing Monday" Linky on your blog. As always, please
don't forget to link to this post
. Also, please don't forgot to leave me a comment!
If you want to use your

blog header

or

profile picture

, use the "from the web" button on your right (after you click to link up). If you want to use a

picture

from your computer use the button on your left (unless the picture is on your blog)
.
Please let me know if you have any problems with linking up.