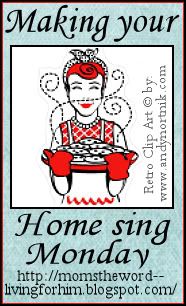 Welcome to the Making Your Home Sing Monday meme! Every day you are doing something to make your house into a home for yourself and your family (if you have one). My point with each Monday post is, what are you doing or going to do today to make your home sing?
It can be an attitude or an action. Motivation, our attitude, baking, encouraging our husband or children (if we have either one), organization, cleaning, saving money....the opportunities are endless

.
Wow. October just keeps coming. I don't understand where the time goes. Thanksgiving is next month.
Next month
people!!!!!!!!! Then comes Christmas.
What is the most stressful thing about the Thanksgiving holiday to you? Is it the traveling with little ones? Is it having to clean up your house because you are hosting this year? Is it the shopping or the fact that you have to do all the cooking and/or all the cleaning up? Or maybe it's the fact that you never have enough chairs, or that certain family members don't get along with other family members.
You have seven weeks until Thanksgiving. That is plenty of time to plan if you start now and get some things done early.
If you're hosting, plan your menu now.
Are you hoping for less stress this year? Ask other people to bring food. Call your mom or sister Sue and assign them food to bring and lighten your own load. If someone says they have no time to cook ask them to bring rolls or ask them to stop by Costco and pick up a pie.
Make your shopping list and shop early.
Some of the food you will serve can be bought earlier, so watch for the holiday sales and go shopping. Don't wait until the day before. If you live on a budget you may need to have a few days of lentils and rice, etc., to free up more money for the extra food that you'll be buying.
Plan your house and table decorations
. Perhaps you really love decorating your house for Fall and haven't yet, or maybe you love decorating the table. Start now to plan what you will do and start making any decorations that you need to make. Pull your Fall decorations out and put them on display. Again, don't wait until the last minute, that just brings stress.
Consider your furniture arrangement and needs.
Will you need to move the furniture around? Have you always wanted to switch the couch into the dining room and move the dining table in front of the living room fireplace so you can eat by the fire this Thanksgiving? Now is the time to plan for that. Do you need extra tables or chairs for everyone? Determine what you need and find out if you can borrow from a friend or your church.
Make a few freezer meals

now.
Thanksgiving week can be busy and stressful, especially if you have family in town. Make yourself a few freezer meals and mark "Thanksgiving" on them. Then put them in the freezer and break them out Thanksgiving week. Not having to cook will free you up to do other things and remove some of the stress from your week.
Let people help you.
For many years I did not allow people to help me with the dinner clean up because my kitchen is small and I just felt there wasn't room. However, by the time I finished loading the dishes in the dishwasher, washing and drying the ones that couldn't go in there, and wiping up the table and putting it back together again everyone was ready for pie! I finally asked for and accepted help and the clean up went much faster and easier.
Don't make extra work for yourself.
Some people love basting the turkey every 15 minutes. Some people love making special centerpieces or folding the napkins in fun ways or making name cards for everyone. But if you aren't one of those people and just stress yourself out doing it, then don't do it.
Simplify when you can.
You may love eating off Grandma's old china, but maybe you really hate hand washing eight sets of china afterward. You may love using cloth napkins but stress out trying to make sure they're all washed and ironed beforehand. You may love baking pies but stress out trying to fit it into your schedule.
Maybe it's time to simplify things and use paper plates (or dishwasher safe) for the dinner. If you can't give up Grandma's china completely then just use the dessert plates instead of the whole set. Perhaps it's time to use paper napkins or wash and iron the cloth ones ahead of time, or use the cloth ones but don't iron them. Assign someone else to bring the pies or bake them ahead of time.
Break down the housecleaning.
Are you one of those people who only clean when company is coming over? Start cleaning now. You will probably want to clean the entry hall, living room, kitchen and bathroom (and maybe the dining room and/or family room depending on the layout of your home). You know, all the "public" rooms.
You have seven weeks. Assign each room a week and spend a little time each day cleaning in that room. (Go here to read my "
Conquering the Messies"
post if you don't know where to start.) Once you get a room cleaned you will need to do daily maintenance to keep it that way. And, if you
continue
with the daily maintenance
after
the holidays, you won't have to company clean again!
Plan to share.
Every time you go to the store, pick up an extra can or cans of green beans or a box of mac & cheese if you have a few extra $$. Hold on to this until you have a sackful and then donate it to someone in need. Ask your local church or organization for a name if you don't know anyone.
Don't forget the kids.
It can be stressful for kids to have a lot of extra people in the house. They can get excited and overstimulated. Plus, if momma is stressed they can often sense that and get stressed themselves. Plan some quiet time for them or quiet games if need be for Thanksgiving day. Purchase an inexpensive new toy for a little one or a game and break it out that day to keep the siblings happy and playing together instead of arguing.
Obviously these are just ideas and I imagine you have tons of ideas yourself. Feel free to leave them in the comments for others to read and make someone's home sing this week!
What are

you

doing or going to do today to make your home sing?
Please go
here
for instructions and/or ideas and come back here to link up to join us today! Please do not put your own "Making Your Home Sing Monday" Linky on your blog. As always, please
don't forget to link to this post
. Also, please don't forgot to leave me a comment!
If you want to use your

blog header

or

profile picture

, use the "from the web" button on your right (after you click to link up). If you want to use a

picture

from your computer use the button on your left (unless the picture is on your blog)
.
Please let me know if you have any problems with linking up.