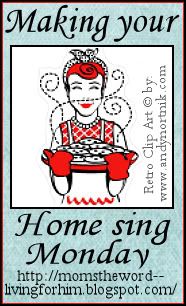 Welcome to the Making Your Home Sing Monday meme! Every day you are doing something to make your house into a home for yourself and your family (if you have one). My point with each Monday post is, what are you doing or going to do today to make your home sing?
It can be an attitude or an action. Motivation, our attitude, baking, encouraging our husband or children (if we have either one), organization, cleaning, saving money....the opportunities are endless

.
Ooooops! I've been sick this week with a cold, which affected my asthma a bit, plus it's been a busy week anyway (when I wasn't hacking up a lung) so I don't have a post prepared for MYHSM meme.
I am beginning to suspect that the mild cold I had a few weeks ago was actually allergies. But this cold is the real deal.
My asthma is doing really well and everything is getting back to normal there, my voice is getting more normal so I don't
quite
sound like a 94 year old
man
who has been smoking for 90 years and I think eventually I might stop coughing before the next century kicks in.
So, I don't know what I will be doing this week to make my home sing but you can bet that I will find something! Join us!
What are

you

doing or going to do today to make your home sing?
Please go
here
for instructions and/or ideas and come back here to link up to join us today! Please do not put your own "Making Your Home Sing Monday" Linky on your blog. As always, please
don't forget to link to this post
. Also, please don't forgot to leave me a comment!
If you want to use your

blog header

or

profile picture

, use the "from the web" button on your right (after you click to link up). If you want to use a

picture

from your computer use the button on your left (unless the picture is on your blog)
.
Please let me know if you have any problems with linking up.