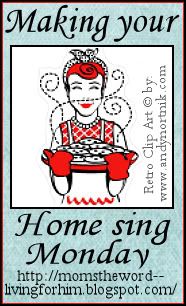 Welcome to the Making Your Home Sing Monday meme! Every day you are doing something to make your house into a home for yourself and your family (if you have one). My point with each Monday post is, what are you doing or going to do today to make your home sing?
It can be an attitude or an action. Motivation, our attitude, baking, encouraging our husband or children (if we have either one), organization, cleaning, saving money....the opportunities are endless

.
Oooooops! I forgot to get this link up. For that matter, I forgot all about MYHSM. Sorry!
My oldest came home for the weekend. He goes to college out of state, and occasionally he will drive home for a visit. I love having him home!
I decided to make him several different freezer meals so that he could stock his freezer and not have to cook as much. I sent him home with about three weeks worth of food. He's been working more hours a week than usual
and
carrying a full load at school and frankly, I don't know when he sleeps.
Neither does he. College students, can't live with 'em, can't sit on them and force them to sleep.
This got me to thinking: When you are busy with your home and family and need more time, what is the first thing that you sacrifice? Your sleep?
When you didn't get everything done that needed to be done that day, what do you do?
When you feel stressed at the end of your day and feel like you need more time to just relax and "chill," where do you get that time? Do you borrow from the next day in order to have more time the night before?
Are you sacrificing your sleep for fun? Are you sacrificing your health for
just one more
load of laundry? Are you sacrificing a peaceful, happy
you
the next morning for just one more hour on the computer or just one more t.v. show the night before?
Sometimes I have a hard time putting a good book down. Other times I will hop on Pinterest or my Google Reader or Facebook or something and before you know it, an hour has gone by.
Go to bed, people, and make your home sing this week! An occasional late night is not going to do you in, but
continually
staying up late and getting up early is probably going to affect your attitude, patience, and temper, not to mention how you interact with your family and others. Do you really need to add
more
stress to your life by suffering from a lack of sleep? See you in Dreamland!
What are

you

doing or going to do today to make your home sing?
Please go
here
for instructions and/or ideas and come back here to link up to join us today! Please do not put your own "Making Your Home Sing Monday" Linky on your blog. As always, please
don't forget to link to this post
. Also, please don't forgot to leave me a comment!
If you want to use your

blog header

or

profile picture

, use the "from the web" button on your right (after you click to link up). If you want to use a

picture

from your computer use the button on your left (unless the picture is on your blog)
.
Please let me know if you have any problems with linking up.