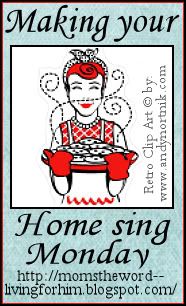 Welcome to the Making Your Home Sing Monday meme! Every day you are doing something to make your house into a home for yourself and your family (if you have one). My point with each Monday post is, what are you doing or going to do today to make your home sing?
It can be an attitude or an action. Motivation, our attitude, baking, encouraging our husband or children (if we have either one), organization, cleaning, saving money....the opportunities are endless

.
When the kids are little you can come up with play dates and trips to the zoo and all sorts of family fun. But when they get older and have jobs, school homework, ministry things that they do, and a "life," it can be a lot harder to find family time.
One of the ways that you can almost always have family time is around a meal. Except in cases like ours, lol! One of the kids generally works morning hours and the other works late afternoon to evening hours. So we're rarely all home for meal time together anymore (when the oldest is home from college, I mean). Except on Sundays.
I love meal planning. I really do. But I haven't been doing it. I HAVE been cooking, of course, but it's not planned a week in advance. I usually decide that morning. Not that there's anything wrong with that, but I love the idea of having a whole week planned out at a time (some people do a whole
month
at a time! They are my hero!).
Of course, there are those times when I am involved in a project and it's getting later and later and my hubby will come and say "We ARE eating tonight, right?" and he'll ask what my plans are for dinner. He just needs to know if I'm cooking or if he should do something. Those are the times when I am like "Dinner? What's that?"
I have one child who always asks "What's for dinner?" In fact those were his very first words. Not mama, not dada, but "dinner?" Not only that, the minute the doctor delivered him my newborn son turned to me and asked "What's for dinner, mom?" and he hasn't stopped since. Pretty sure his future wife is going to
love
that someday.
When I have a meal plan he knows to go look at the fridge where it's posted and he can rest assured that, yes, indeed, he will eat again that night so all is well in his world. He will not starve. Did I mention that
this
is the kid that wants to be a
chef
??????? Yeah, I know. Go figure.
Meal planning is a great idea because it can save time, money, and stress.
You save time because you already have a plan in place, and you know what you're going to make. You don't have to agonize over that question day after day after day. It's already been decided for that week and you don't have to rethink it. You don't have to sit around and try to decide what you "feel" like cooking that night. It isn't an
emotional
decision.
Since you planned your menu in advance you already know that you have the ingredients in the pantry, so you don't have to run to the store at the last minute.
You save money because you can buy ingredients when they are on sale, thereby building a stock pile and purchasing items when they are at their cheapest. You also save because you are cooking from scratch more and eating out less! You also save because you aren't shopping when you are hungry and desperate for a meal idea, and are more apt to make an impulse buy.
You save stress because who wants to grocery shop at 5:00 p.m. when the stores are crowded with
other
desperate people who have no idea what to feed their family for dinner? You know how they feel, because you are one of them. And so am I!
If you want to meal plan but aren't sure where to start, sit down and make a list of your family's favorite meals, or ask them to make you a list of their favorites, then add in a few recipes you've been wanting to try. Now look at your pantry and see what ingredients you have on hand, then make up your shopping list. Also look at store ads to see what's on sale and choose your meals from what you have on hand and/or what's on sale that week.
I want to get back to some of the basics, like meal planning, and having batches of pre-cooked chicken or ground turkey in the freezer, ready for a quick meal. I want to try some new recipes from scratch and eliminate buying some convenience foods.
Ultimately it comes down to making a choice to be organized and plan my meals. We all have the same amount of time in our day. Sometimes we use our time wisely and sometimes we don't. So this week, I am hoping to make my home sing by doing some menu planning!
What are

you

doing or going to do today to make your home sing?
Please go
here
for instructions and/or ideas and come back here to link up to join us today! Please do not put your own "Making Your Home Sing Monday" Linky on your blog. As always, please
don't forget to link to this post
. Also, please don't forgot to leave me a comment!
If you want to use your

blog header

or

profile picture

, use the "from the web" button on your right (after you click to link up). If you want to use a

picture

from your computer use the button on your left (unless the picture is on your blog)
.
Please let me know if you have any problems with linking up.