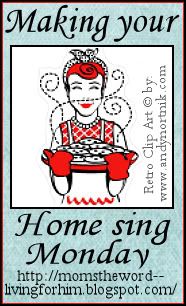 Welcome to the Making Your Home Sing Monday meme! Every day you are doing something to make your house into a home for yourself and your family (if you have one). My point with each Monday post is, what are you doing or going to do today to make your home sing?
It can be an attitude or an action. Motivation, our attitude, baking, encouraging our husband or children (if we have either one), organization, cleaning, saving money....the opportunities are endless.
I want to thank all of you who linked up last week. I want you to know that I DO plan on visiting your blogs. I just had a very busy week and haven't had a chance to do it yet.
I have been an aunt since I was a little girl. As a result, I have nieces and nephews that are only a few years younger than I. Some of them were my playmates when I was younger. I also have something like over 40 nieces and nephews and great-nieces and great-nephews as well. I am going to be a great-
great
-aunt very soon too.
This amazes me because I just feel I am too young to be a great-great-aunt. Shouldn't I be in my 90's or 100's or something?
Anyway, this week my precious nephew and his sweet wife are coming to town to visit. I haven't seen my nephew in many years and I have never met his wife (except chatting on facebook).
Due to my perfectionism instead of cleaning the house I am filing. Makes perfect sense doesn't it? You ignore the things that you can see in order to micro-manage the stuff that no one will ever see. Of course, you never know when all your relatives will have a huge desire to take a peek in your filing cabinet.
When they do, I want it to be neat and organized!
Certainly they will bypass the clutter on the coffee table and make a bee-line for the files. Happens every time.
I have been wanting,
needing,
to do some filing for awhile and I started on it before I knew my nephew was coming to town. And now, I just gotta finish it!
It's all in the details.
So my nephew and his wife are coming to town and I also have several family members coming into town as well to see them. So we will be throwing a big par-tay at my house for some of my siblings and siblings-in-law and a niece or nephew or two (and maybe even some greats).
So I will be making my home sing by rapidly finishing up my filing, asking myself WHY I deemed it so important as to need to be done
now,
and then straightening up and decluttering any other areas in the house that need doing.
Believe me, something somewhere is going to need doing.
What are

you

doing or going to do today to make your home sing?
Please go
here
for instructions and/or ideas and come back here to link up to join us today! Please do not put your own "Making Your Home Sing Monday" Linky on your blog. As always, please
don't forget to link to this post
. Also, please don't forgot to leave me a comment!
If you want to use your

blog header

or

profile picture

, use the "from the web" button on your right (after you click to link up). If you want to use a

picture

from your computer use the button on your left (unless the picture is on your blog)
.
Please let me know if you have any problems with linking up.