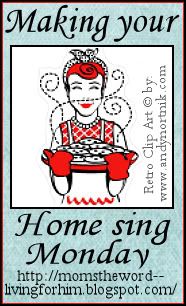 Welcome to the Making Your Home Sing Monday meme! Every day you are doing something to make your house into a home for yourself and your family (if you have one). My point with each Monday post is, what are you doing or going to do today to make your home sing?
It can be an attitude or an action. Motivation, our attitude, baking, encouraging our husband or children (if we have either one), organization, cleaning, saving money....the opportunities are endless.
Well, guess what? Last week never happened.
Well, last
week
happened, but I never changed out my home decor accessories like I said I was going to. In fact, I really didn't even think about it.
We have a lot of stuff going on around here and I had a lot on my mind and my home decor was the least of it, haha!
When stressful stuff is going on, it is so easy to let go of some of the important things around the home.
It's easy to let things pile up while you just hunker down with a good book, a cool fan, and maybe three dozen donuts or so.
Last night I was going to pick up a little, but then my oldest son asked me to go to the mall with him. I've said before that I jump at the chance when my kids ask me to go somewhere, because with their busy lives it doesn't happen very often.
Friday the kids were gone and hubby and I enjoyed a lazy day at home. I didn't clean then either.
Surprisingly, the house looks pretty well, considering the neglect of the last couple of days. I guess I haven't neglected it totally because the kitchen sink is empty and the counters are uncluttered. But I haven't been picking up the house before bedtime (or seeing that anyone else does) and it shows.
So, this week I'll make my home sing by taking a few extra minutes to put things back where they belong, instead of chillin' out and ignoring it all. First I'll clean, then I'll chill........
What are

you

doing or going to do today to make your home sing?
Please go
here
for instructions and/or ideas and come back here to link up to join us today! Please do not put your own "Making Your Home Sing Monday" Linky on your blog. As always, please
don't forget to link to this post
. Also, please don't forgot to leave me a comment!
If you want to use your

blog header

or

profile picture

, use the "from the web" button on your right (after you click to link up). If you want to use a

picture

from your computer use the button on your left (unless the picture is on your blog)
.
Please let me know if you have any problems with linking up.