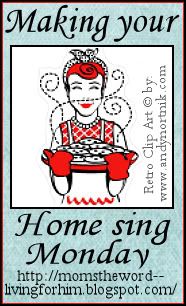 Welcome to the Making Your Home Sing Monday meme! Every day you are doing something to make your house into a home for yourself and your family (if you have one). My point with each Monday post is, what are you doing or going to do today to make your home sing?
It can be an attitude or an action. Motivation, our attitude, baking, encouraging our husband or children (if we have either one), organization, cleaning, saving money....the opportunities are endless.
Don't you wish you could edit your speech as easily as you can edit your blog? Wouldn't it be nice to have a "delete" button?
In today's world, with email, facebook and texting at our fingertips, we now have the ability to say whatever we want as quickly as we want, and it arrives instantly.
We can get mad or annoyed with someone and our fingertips will fly and say whatever we're feeling, without giving our brains time to think and without giving our hearts time to give grace.
We can just give an immediate response. No cooling off period, no "Should I say this," no calming down and thinking it through.
Back in the day, if you were talking on the phone with someone and got upset, they might hang up on you. Then you had the option of calling right back, or stopping a minute and thinking (and hopefully praying) about the situation and giving yourself time to calm down, taking time to choose your words.
With texting and facebook so close to our fingertips, oftentimes there is no filter. You can just fire off a status or text if you're upset about something or with someone and let the whole world know.
Also, you can misunderstand the printed word. Without hearing someone's tone or seeing their face, it can be easy to misjudge their words and take it wrong.
Or, if you are upset with someone, it is so easy to read something they wrote and get upset and just fire a response back, without processing your feelings first. Without asking yourself, "Should I?" Sometimes it seems like if we have to ask ourselves "Should I," we
shouldn't.
We can do that in the spoken language too. We can hear the stressed tone in someone's voice and snap right back at them. We can hear the whining tone in our children's voices and respond in anger. Where's the "delete" button?
We can respond with words that crush and a tone that is harsh, or we can stop a minute before we respond and think and pray, and choose our words (and tone of voice) carefully.
Which response do you think will make
your
home sing this week?
What are

you

doing or going to do today to make your home sing?
Please go
here
for instructions and/or ideas and come back here to link up to join us today! Please do not put your own "Making Your Home Sing Monday" Linky on your blog. As always, please
don't forget to link to this post
. Also, please don't forgot to leave me a comment!
If you want to use your

blog header

or

profile picture

, use the "from the web" button on your right (after you click to link up). If you want to use a

picture

from your computer use the button on your left (unless the picture is on your blog)
.
Please let me know if you have any problems with linking up