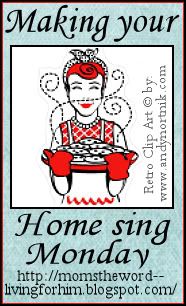 Welcome to the Making Your Home Sing Monday meme! Every day you are doing something to make your house into a home for yourself and your family (if you have one). My point with each Monday post is, what are you doing or going to do today to make your home sing?
It can be an attitude or an action. Motivation, our attitude, baking, encouraging our husband or children (if we have either one), organization, cleaning, saving money....the opportunities are endless.
This last week a friend called and asked me to meet her for ice cream. Now, I ask you, who can say no to
that?
While we were talking I commented on how busy my weeks were, and that I was hoping that next year I'd have more time. Then we laughed because we both knew that I'd somehow manage to fill up the time or have it filled
for
me. Isn't that always the case?
I am a wife, homeschooling mom to one, mother of another son in college, pastor's wife, caretaker for my 87 year old mother (who lives with us) and after-school care provider for a friend's developmentally disabled daughter.
I am busy, just like you. If I don't fill my time, someone else will be happy to fill it for me! When I do have some time I have choices to make.
Should I clean the kitchen or should I read my new home magazine? Should I do laundry or should I read a chapter in my book? Should I take my mom to the beach so she can get out of the house or should I stay home and get some cleaning and laundry done? Should I go meet with a friend who needs some encouragement or should I stay home with my son who is working on a project for school and may have some questions?
Should I fold and put away the laundry or should I sweep the hardwoods instead? Should I meet with this person or
that
person? Do I watch a movie with my family or finish cleaning the kitchen and doing the laundry? (Usually, if it comes to that my family always wins!)
Some choices are easy, some not so easy. There are times when laundry and mopping needs to give way in order to be there for someone who is hurting and needs a word of encouragement and listening ear. Sometimes it's not a matter of which is the better choice, because sometimes both choices are good and valid, so which one do you choose to do?
I am behind in my blog reading and blog commenting, not to mention blog writing. Do I spend more time blogging or commenting or do I clean up the kitchen?
(If you have left me a comment and I haven't responded I guess you know that the kitchen or laundry is

winning

this week! Though I do

appreciate

all your comments and emails and feel bad when I don't get back to you!!!)
It's a dance. Finding the right balance.
It's a dance,
between this person who needs you and
that
person who needs you. Between keeping the house running smoothly enough and yet finding time to be with those you love.
This week I pray that I will find the melody in the dance and make my home sing!
What are

you

doing or going to do today to make your home sing?
Please go
here
for instructions and/or ideas and come back here to link up to join us today! Please do not put your own "Making Your Home Sing Monday" Linky on your blog. As always, please
don't forget to link to this post
. Also, please don't forgot to leave me a comment!
If you want to use your

blog header

or

profile picture

, use the "from the web" button on your right (after you click to link up). If you want to use a

picture

from your computer use the button on your left (unless the picture is on your blog)
.
Please let me know if you have any problems with linking up